Kia Dealership Near Me – Freehold, NJ
There are many reasons to go to a Kia dealership in your area, rather than trying to deal with a private seller or go through a faceless website with seemingly random vehicle listings. A local dealership has roots in your community – to us you are not just a customer, you are a neighbor, friend, or family member right here in Freehold. Whether you found us by searching online for "
Kia dealership near me
" or you were recommended by a friend who bought from us, we are excited to help you in any way we can.
We understand that for years the idea of buying a car has been synonymous with stress, dishonest tactics, and seemingly endless hours of paperwork and frustration. Every aspect of our business, however, is designed to cut through all those headaches, help you find just the right vehicle for your needs, and make sure you drive away happy. From the moment you step onto our lot, or just peruse our inventory online, we want to make sure you are always satisfied with the experience and in control of your car-buying process.
Our knowledgeable, friendly staff is here to help you any time you need, whether you are unsure of what model is right for you or you are worried about financing. And when you drive away with your new vehicle, we're not done working together and building our relationship with you. Our Kia-certified service professionals are here to help you with routine maintenance and service, any repairs you might need, or to answer your questions about the features of your Kia.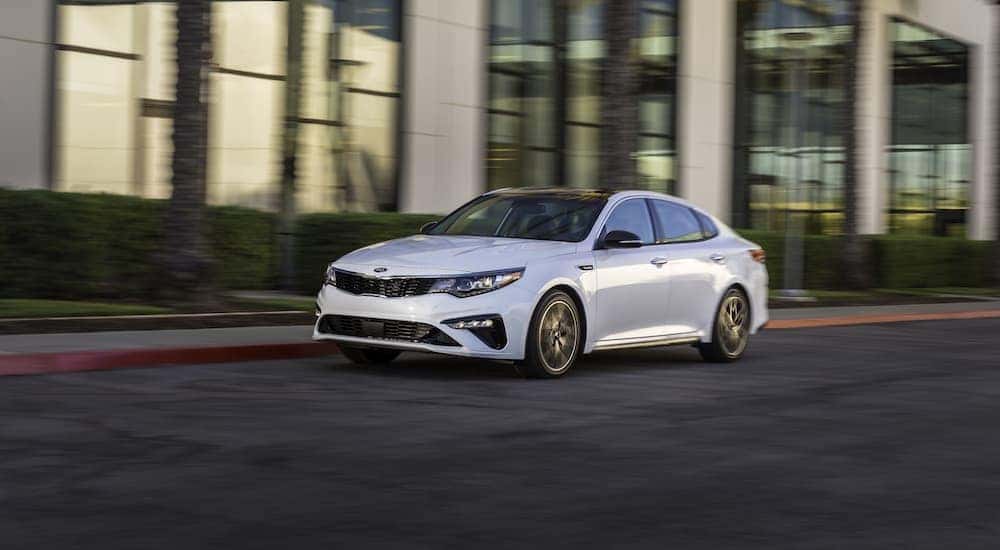 A Wide Selection of New Vehicles
If you are interested in a brand new Kia, then we are the Kia dealership near you to choose since we have a huge selection of brand new models. Whether you are interested in a four-door sedan or a luxurious SUV, we have numerous models and trim levels on-hand for you to choose from. We pride ourselves on our selection of vehicles – after all, a proper inventory is one of the most important aspects of any vehicle dealership.
While plenty of our customers arrive with a sense of what they are looking for, we also have a number of people come to our lot without a firm idea of what they want. One of the advantages of going to a Kia dealership near you rather than looking online is that we have a knowledgeable staff here to help you figure out the right vehicle for your lifestyle. No feeling can quite match that sense of satisfaction as you drive away with the perfect Kia, and we're here to make sure you feel that way at the end of your visit.
Plenty of Used Kias to Choose From
If a brand new Kia is not the right option for you, then we also have a great selection of used vehicles to look at and choose from. There are plenty of reasons to choose a used Kia over one that is brand new – not only financial ones but also concerns for the environmental impact of a vehicle. By picking a used Kia, you can save money but you also know that you are keeping that vehicle on the road longer, which offsets the impact of manufacturing it in the first place.
We know that you have a lot of options when you are looking for a used Kia, which is why we pride ourselves on being your best choice. While it is true that you can probably save some money by buying from a private seller, that leaves you with little peace of mind if something goes wrong. By choosing us as the Kia dealership near you, you know that if any problems arise we will be here to answer all your questions and help you in any way necessary. Plus, we will still be here when you are ready for your next used Kia.
Certified Pre-Owned Options
If you do not want a brand new Kia, but you also want to have some of the purchase protection that a new vehicle affords, then you cannot beat a certified pre-owned Kia. This is one of the best reasons to choose us as the Kia dealership near you to buy a vehicle from, rather than going through a private seller or random website.
All of our certified pre-owned vehicles have gone through a meticulous 150-point inspection by Kia and had any necessary servicing or replacements performed on them. For a Kia to be certified pre-owned, it cannot be more than 5 years old and must have no more than 60,000 miles on it.
When you choose a certified pre-owned Kia, you get an unbeatable 10-year/100,000-mile limited powertrain warranty beyond any warranty the Kia may have had when it was brand new, as well as 12 months or 12,000 miles of Platinum Coverage from the manufacturer. Choosing a certified pre-owned Kia also comes with 24-hour roadside assistance, including towing, rental, and travel breakdown coverage.

Our Honest, Helpful Staff
Our relationship with you does not end when you drive away in your new or pre-owned Kia. Being the best Kia dealership near you is about more than helping you and making a sale – it is about a lasting bond and providing you with any help you need for years to come. That is why we have fully trained, Kia-certified service professionals who can perform any maintenance you need, help you order parts, and answer questions you might have about your vehicle.
The regular services you can expect from Raceway Kia are regular maintenance, part repairs, and primary systems repairs. You should visit an auto technician for regular maintenance at least every 5,000 miles. This will keep your new vehicle running smoothly for years to come, you can trust we know just what to do in order to upkeep your vehicle so you don't have to worry. You can also trust us with repair work. We know accidents happen and that sometimes things just break, our staff is up to date on all things Kia so we know just what to do when something goes wrong.
There is something comforting about knowing all your Kia needs can be handled at one location. The most important thing to us, from the moment you first walk onto our lot, to when you drive away in your new Kia, and beyond, is that you are completely satisfied with your experience. We want to make buying a vehicle an enjoyable experience that you are happy to tell others about.
2021 Kia Seltos

Starting at $21,990, the 2021 Kia Seltos is a well-equipped subcompact crossover with seating for five passengers. It comes with two engine choices, which is rare for such a petite vehicle. First is the standard 2.0-liter 4-cylinder engine paired with a continuously variable transmission (CVT) that generates 146 horsepower. The second option is a turbocharged 1.6-liter 4-cylinder mated with a 7-speed dual-clutch automatic transmission. With the 1.6L engine, you will get up to 175 horsepower and 195 lb-ft of torque. The base model is only available with FWD, and AWD becomes an option for all other trims.
Riding on 17-inch alloy wheels, the base LX trim includes an infotainment interface displayed on an 8-inch touchscreen that works with a rearview camera. Bluetooth compatibility, Apple CarPlay and Android Auto are also included along with remote keyless entry. Stability, traction, and hill-start assist controls are also integrated for the ultimate smooth driving experience.
The S model adds roof rails, LED headlights, heated side mirrors with integrated turn signals, and dynamic parking guidelines on the rearview camera function. A driver attention system has also been included as well as emergency braking. The cabin features a leather-wrapped steering wheel and shift knob for a touch of elegance.
Next is the EX trim. This mid-level model includes a power sunroof, remote start technology, and wireless charging pad. Advanced safety features include blindspot monitoring, rear cross-traffic alert, lane-departure warning, and lane-keeping assist.
The S Turbo model comes with all of the aforementioned features plus the turbocharged engine for a more dynamic driving experience. Finally, the top-tier SX Turbo adds 18-inch wheels, heated front seats, an upgraded Bose stereo system, and a handy navigation system displayed on a larger 10.25-inch touchscreen.
2021 Kia Sorento

The 2021 Kia Sorento has not yet been revealed. Scheduled to make its first appearance at the Geneva Auto Show in March, this model is rumored to have many engine options. The standard powertrain is said to be a naturally-aspirated 2.5-liter 4-cylinder engine, and there may also be turbocharged versions of 2.0-liter and 2.5-liter engines as well. Diesel options should be available; expected engines are a 2.0-liter and 2.2-liter. Finally, the upcoming Sorento is rumored to be coming in two hybrid variants. One will be like a conventional hybrid, and the other will be a plug-in hybrid.
Trim levels for this upcoming SUV have not yet been released, but this seven-passenger model is said to have a completely redesigned dashboard. Featuring twin touchscreen monitors, these displays show the vehicle's instrument cluster and infotainment interface.
2021 Kia Optima

The upcoming 2021 Kia Optima has been restyled with a sharper appearance for a more athletic look. This mid-size sedan will still seat five comfortably and is expected to be powered by a turbocharged 1.6-liter four-cylinder engine that makes 177 hp and 195 lb-ft of torque. Equipped with FWD and an 8-speed automatic transmission, this sedan is expected to have an estimated fuel economy of 31 mpg combined (27 city/36 highway).
As with the 2021 Sorento, the details for the upcoming Optima trim levels have not yet been released. However, we do know a bit about this beauty. When you slip behind the wheel, you will first notice the sophisticated faux wood accents throughout the cabin. Leather upholstery keeps the interior looking elegant and clean. Displayed on a massive 10.3-inch touchscreen is the upgraded infotainment interface. Compatible with all the latest innovative technology, this system works with Apple CarPlay, Android Auto, and Bluetooth.
Feeling more like a cockpit on a plane than a car, the 12.3-inch instrument cluster is quite an interesting addition to the interior. Along with the flat-bottom steering wheel design, this vehicle feels more like a racecar than a sedan. Ambient lighting allows you to set a relaxing mood, and heated/ventilated seats will keep you warm during the winter and cool during the summer. A wireless charging pad has also been added to keep the cabin free from clutter.
2020 Kia Telluride

The current 2020 Kia Telluride is a solid mid-size SUV with ample seating for seven to eight people. Rumbling under the hood is a 3.8-liter V6 engine that generates 291 hp and 262 lb-ft of torque. This model is equipped with an 8-speed automatic transmission and front-wheel drive, all-wheel drive is optional.
There are four available trim levels. The base LX rolls on 18-inch wheels and comes with simulated leather upholstery and five USB ports for charging multiple mobile devices at one time. The infotainment system is displayed on an 8-inch touchscreen that operates with Bluetooth, Apple CarPlay and Android Auto. It's also well-equipped with standard safety features including adaptive cruise control, rear parking sensors, forward collision warning, blindspot monitoring, rear cross-traffic alert, emergency braking, lane-keeping assist, and the driver alert system.
Next is the S model, which gets roof rails, a sunroof, and larger 20-inch wheels. This model also comes with heated front seats for the ultimate comfort during the colder months.
The mid-level EX adds a hands-free liftgate, power-folding side mirrors, and LED exterior lighting. A cooling setting has been added along with subtle leather upholstery. An additional USB port has been included as well as a larger 10.3-inch touchscreen interface for the infotainment system. A wireless charging pad helps to keep the cabin clear of cables, and Quiet Mode can silence the back speakers to make the drive more peaceful for children to sleep in the back.
Lastly, the top-tier SX model includes a dual-panel sunroof, front parking sensors, and automatic high beams. Rain-sensing wipers come on automatically during inclement weather, and heated/cooled seats have been added to the second row. The Head-up Display allows the driver to keep his/her eyes on the road, and the steering wheel has gained a heating element for comfort.

Come See How Fun Buying a Kia can Be
At Raceway Kia, we strive every day to be the best Kia dealership near you – every decision we make and principle we follow as a business is guided by that desire. Here we believe in full-transparency during the buying process, we won't go back on our word, or try to pass off shady deals. We like to make the car-buying process as painless as possible with no hassle or added stress. Our goal is to make you feel like family and provide you with the best service you can find in the dealership world. Here, we never rest on our laurels – no matter how many awards we win or how many times we are recognized by Kia, we always push to do better and find new ways to improve. You don't have to take our word for it though. As a Kia dealership near you, you can come to our lot, meet with our knowledgeable and friendly staff, and discover a different kind of car-buying experience for yourself.