Used Kia Forte Buying Guide
Used Kia Forte Buying Guide

We are currently updating our monthly offers. Please check back shortly for updates.
In the meantime, here are some links that you might find helpful:
If you're dreaming of a compact economy car with tech and luxury features to rival more expensive models, look no further than the used Kia Forte. With a large number of transmission and body styles over the years, the used Kia Forte provides plenty of options. Which model is right for you? Our used buying guide will help you decide.
Second Generation, 2014-Current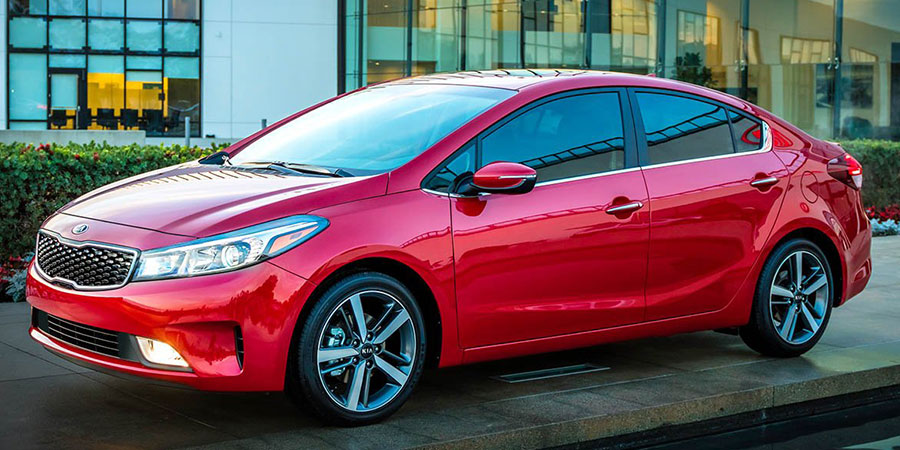 Comfort: The Forte's expansive head and leg room let you commute in comfort. If you're lucky enough to find extras, like a sunroof or a ventilated eight-way power driver seat, your used Forte will feel like a luxury sedan.
Technology & Convenience: With its crisp, responsive touchscreen interface and traffic-friendly voice controls, the UVO infotainment system lets you access your favorite apps with ease. Starting with 2017 models, you'll find Apple CarPlay and Android Auto technology, which displays vital smartphone apps, like Phone, Maps, and Podcasts, on your touchscreen, so you don't have to look down to unlock and open it on your phone.
Safety: When your used Kia Forte includes the Technology package, you'll enjoy advanced safety aids, like blind-spot monitoring and automatic emergency braking, that actively keep you out of trouble. With features like on-demand roadside assistance, the UVO eServices emergency telematics system helps solve unexpected problems.
Performance: With its precise steering and steady handling, the modern Forte gets you in and out of tight spaces like a pro. This compact car provides a smooth ride and impressive fuel economy. Depending on powertrain, it earns up to 29 city/38 highway mpg.
First Generation, 2010-2013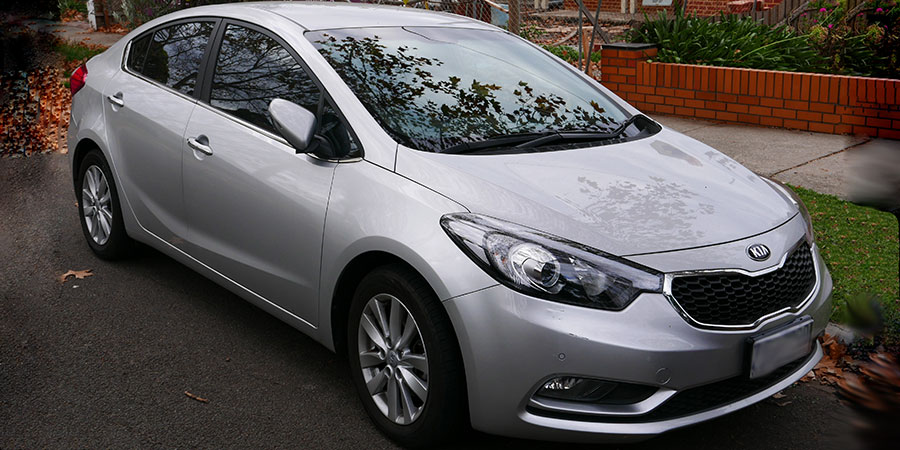 Comfort: With options like leather upholstery, heated seats, and a sunroof, your used Kia Forte can provide a luxury feel.
Technology & Convenience: Bluetooth connectivity lets you stream music from devices and make calls, hands-free. The Forte's built-in USB jack makes keeping your phone charged easy.
Safety: Unlike a lot of used models, you don't have to worry about whether or not your used Kia Forte has basic safety features. Every Forte comes with anti-lock disc brakes and stability control, to maintain your traction no matter what the weather is like.
Performance: With so many engine and transmission options, you'll find everything from sporty speed to commuter-friendly fuel economy. For the most in athleticism, look for the Forte SX. Its larger engine and sporty suspension offer wide appeal for driving enthusiasts. For reduced fuel spending, go with the Forte Eco, which boosts EPA ratings to 27/35 mpg.
What Drivers Love about the Used Kia Forte
The Kia Forte keeps drivers happy with its real-world fuel economy performance. The second-generation Forte is EPA-rated 27 city/38 highway mpg, with some drivers earning a few more miles on top of that. The UVO infotainment system is especially easy to use, and it includes Apple CarPlay and Android Auto for total smartphone integration.
What to Look for in Your Used Kia Forte
Throughout its run, the Forte has been available in three different body styles–the four-door sedan, the two-door coupe, and the four-door hatchback. The hatchback provides extra cargo space, making it a great find for sports enthusiasts and weekend warriors. With its sleek roofline, the two-door coupe offers an extra dose of style. In the four-door sedan, families enjoy how easy it is to get in and out.
Used Kia Forte Buyers Food for Thought
Over the years, Kia Forte shoppers could choose from a wide range of transmission options. In the 2010 Forte, you'll find options that are a bit outdated – namely, a five-speed manual and four-speed automatic. After 2010, shoppers could select either a six-speed manual or six-speed automatic. These transmissions' extra gears create better fuel economy, and they lend themselves to a smoother, more refined ride.