Used Ford F-150 Buying Guide
Used Ford F-150 Buying Guide

You can count on a used Ford F-150 to tow and haul the heavy loads on your to-do list – whether that means raw construction materials or the family boat. On the used lot, you'll find more options than you know what to do with, including different cabin and bed sizes and trim models with varying levels of luxury. This full-size truck offers up everything from stylish leather seating to a multi-camera Trailer-Tow system that helps you hitch a trailer or switch lanes with one attached. Read our used buying guide to learn more about these trucks and how they've changed over the years.
Thirteenth Generation, 2015-Current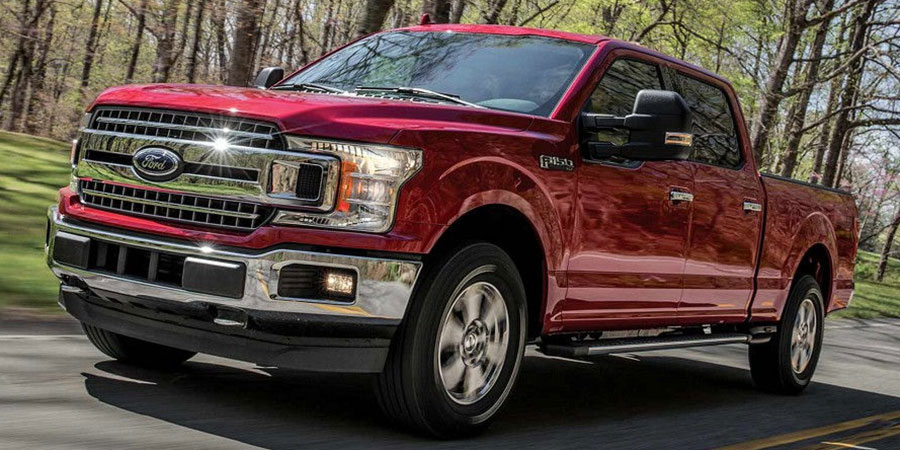 Comfort: This used Ford F-150 offers regular, extended, and crew cabins for the passenger space that suits your lifestyle. With six trims available, cabins range from the roomy, work-friendly XL to the plush, leather-trimmed Limited. If you're lucky enough to find a used truck with the multicontour seats, your F-150 will give you a massage on your way home from work.
Technology & Convenience: The modern F-150 makes life easy, with timesavers like keyless entry and ignition and power seats. The standard rearview camera helps you back out in a jiffy, without incident. Infotainment systems from this era include MyFord Touch (2015) and Sync 3 (2016 and later). Both provide the smartphone integration features – like hands-free calling and audio streaming – that modern drivers crave.
Safety: In government crash tests, every model from this generation earned a perfect five-star rating for overall protection. Some models include high-tech driver aids, like forward collision warning, to help keep you on your toes in heavy traffic. In 2017, Ford introduced the Ultimate Trailer Tow system, which includes cameras to help you switch lanes with a trailer attached or keep an eye on the truck bed in windy weather.
Performance: These full-size trucks are stronger than ever. Thanks to the F-150's new aluminum body, max tow ratings are up to 12,200 pounds, depending on powertrain and body configuration. Those aluminum body panels also make for a swifter, more compliant performance. It's never been easier to explore jam-packed city streets in your full-size truck.
Twelfth Generation, 2009-2014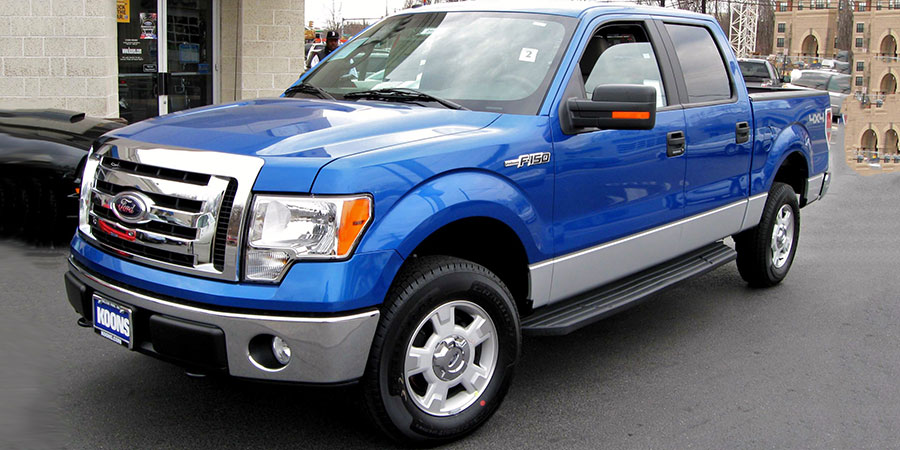 Comfort: Choose from one or two rows of passenger space, with regular, extended, and crew cabins available. And, with nine trim models out there, you'll find that just-right level of luxury, whether you prefer a plush, leather-trimmed ride or work-friendly cloth seats and vinyl floor mats.
Technology & Convenience: Use Sync voice controls to switch music playlists or take hands-free calls. These features keep you connected without distracting you from the road. On the used lot, you can even find a navigation system to guide you through previously unexplored territory.
Safety: Every truck from this generation comes with a full complement of airbags, mitigating passenger damages if an accident should occur.
Performance: These used Ford F-150s are designed to tow and haul thousands of pounds, jobs they do well. When you shop for a used truck, you'll find rugged V8 and turbocharged V6 engines for varying levels of capability.
What Drivers Love about the Ford F-150
Drivers can't get enough of the used Ford F-150's capable performance. In your used Ford F-150, you can tow and haul heavy loads to your heart's content, moving work supplies and leisure equipment with equal ease. Used Ford F-150 shoppers also appreciate the sheer amount of choices out there, including different cabin and bed sizes, powertrain options, and trim models with comfort features ranging from workhorse basics (cloth seats and easy-to-clean vinyl floor mats) to upscale style (leather upholstery and multicontour front seats with massage settings).
What to Look for in Your Ford F-150
Over the years, Ford has made many changes to the F-150. Beginning in 2011, the twelfth-generation F-150 introduced a more powerful engine lineup, including the innovative turbocharged V6 engine, which supplies maximum horsepower, even as it helps you maximize fuel economy.
Obviously, tech features have continued to improve from model year to model year. You'll find Sync voice control technology throughout the twelfth generation. For 2015, the MyFord Touch infotainment system boosted smartphone integration options, making it easier to make hands-free calls and stream music. If you want the most in smartphone integration, look for the Sync 3 infotainment system. Later editions of this technology include Apple CarPlay and Android Auto capabilities, which displays apps like Phone and Messages directly on your central touchscreen, minimizing driver distraction.
Used Ford F-150 Buyers Beware
As you shop recent generations, keep your own towing and hauling needs in mind. These full-size trucks are extremely capable, but tow and haul ratings vary according to model year, powertrain, and bed-body configuration. You should also note that powertrains from the 2009 and 2010 model years weren't as commanding as the ones that came after them.