Kia Sportage vs Kia Niro
Kia Sportage vs Kia Niro
These days, the 2019 Kia Sportage and Kia Niro represent some of the best crossovers on the road – with highlights including but not limited to extensive legroom and world-class fuel economy. Which is right for you? Our comparison guide gives you a side-by-side look at both models.
Creature Comforts
Comfort is a major priority for Kia crossovers. The Sportage might be compact, but it supplies generous head and leg room for family outings. Seating is another high point. Cushions are firm yet supportive, so you can stay put for hours. The Sportage also has a luxurious side, with high-end options like leather upholstery and heated seats to take comfort to the max.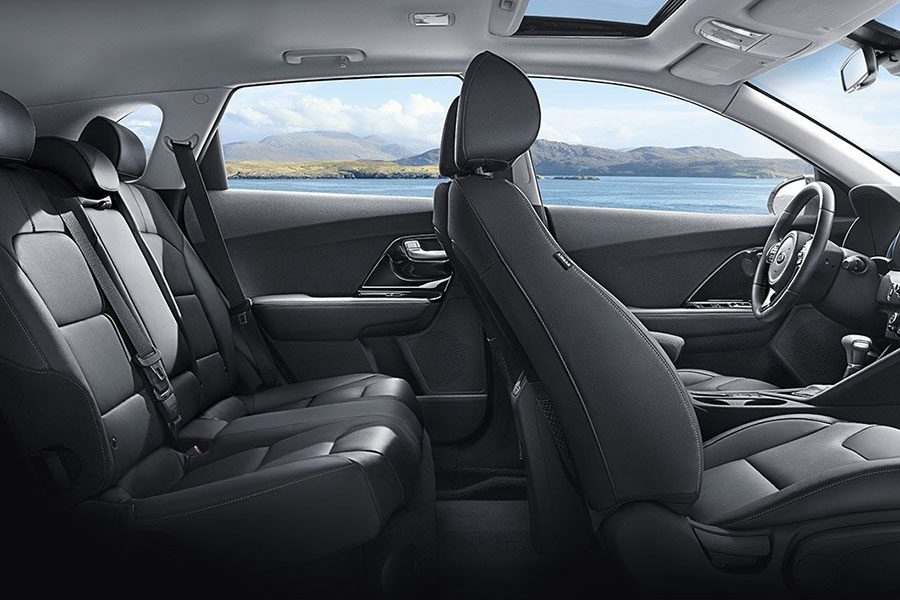 The 2019 Kia Niro is also rated as a compact crossover, but you wouldn't know it from the spacious cabin. It's no luxury model, but the Niro's supportive, spacious seating provides hours of on-road comfort. It, too, offers greater style as you move to top trim levels, where you'll find extras like leather upholstery and ventilated front seats.
Infotainment & Tech Features
Both the 2019 Kia Sportage and 2019 Kia Niro feature the same infotainment system – Kia's Uvo interface. It comes standard on every Niro trim. With the Sportage, it's optional on the base LX and standard for other trims. In any case, the system's crisp, responsive touchscreen makes for an easygoing user experience. It also includes Apple CarPlay and Android Auto, connectivity features that display smartphone apps on the touchscreen, so you can play your favorite podcasts or make calls without ever picking up your phone.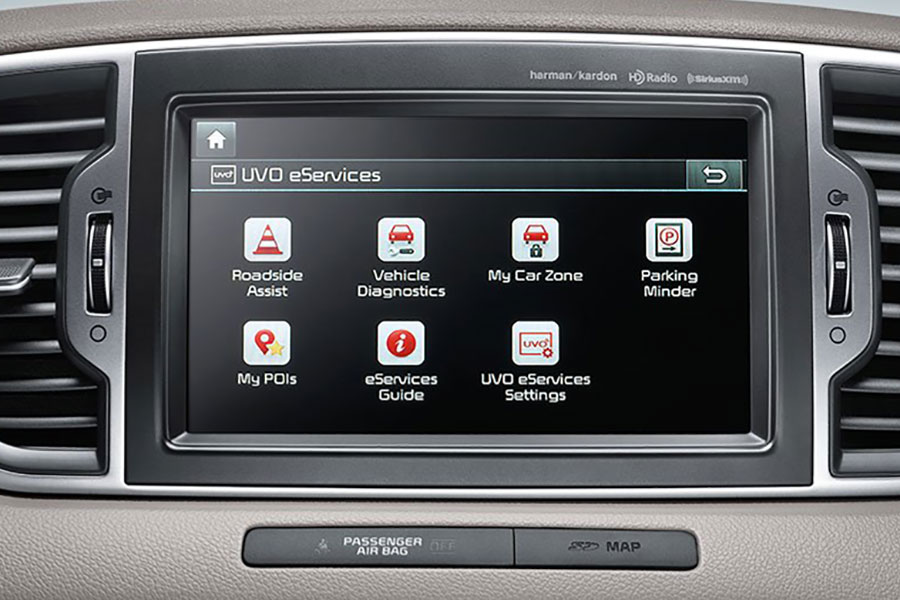 You can also count on the Sportage and Niro for modern conveniences. Mid-grade models and up include keyless ignition and entry. You'll certainly never dig through another bag looking for your keychain again. USB charging ports keep devices ready for action, which is a boon on long trips, when such devices are absolutely necessary to keep kids happily distracted.
Fuel Economy
For awesome savings on fuel, go with the 2019 Kia Niro. Its hybrid powertrain earns up to 52 city/49 highway mpg, putting it on par with the most fuel-efficient hybrids out there.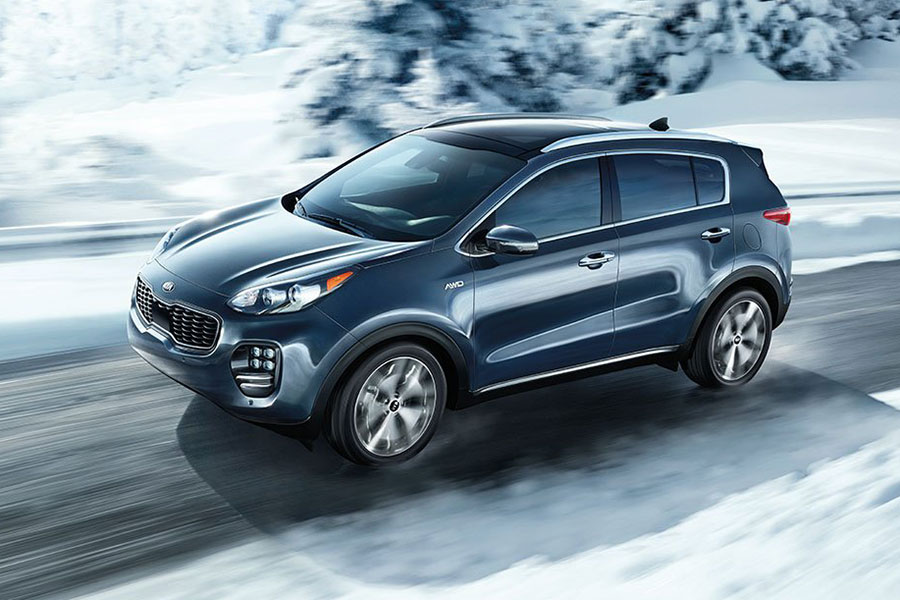 The 2019 Kia Sportage is more of a traditionalist, combining premium power with modern fuel economy. The base 2.4-liter four-cylinder engine is its thriftiest option, earning up to 23 city/30 highway mpg.
Modern Utility
Both crossovers offer their own brand of utility, but the 2019 Kia Sportage is the better choice if you crave all-wheel-drive performance and towing capabilities. Properly equipped, this crossover can tow up to 1,650 pounds. That's more capability than most other compact crossovers and plenty to get your Jet Ski to the beach. Unlike the Niro, the Sportage offers traction-enhancing all-wheel drive, so you can cruise down winding roads and over icy pavement with total confidence.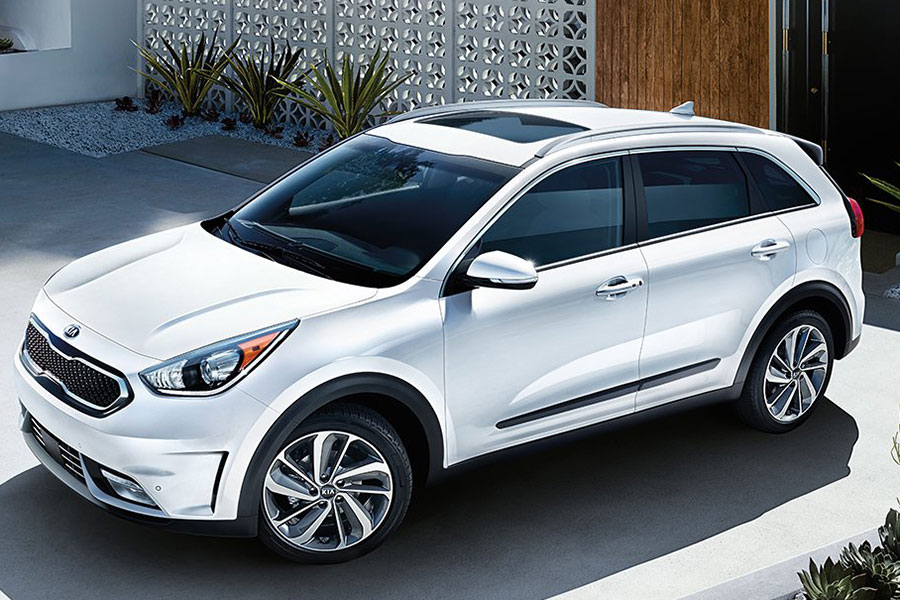 Like the Sportage, the 2019 Kia Niro offers roof rails to help you transport surfboards or kayaks. Both crossovers also help you avoid danger, thanks to driver aids like forward collision mitigation. Visibility is another high point, thanks to Kia's LED headlights and foglights.
In the end, the 2019 Kia Sportage has a lot in common with the 2019 Kia Niro. They're both Kias, after all. You'll find similar takes on passenger comfort and infotainment technology in both models. However, if you want to save massive amounts of money at the pump, the 2019 Kia Niro has the edge. In fact, the Niro has the advantage over most other vehicles in this category. On the other hand, if you need a compact crossover that goes big in the utility department, the 2019 Kia Sportage is the one that will tow your favorite toys and boost traction with all-wheel drive.