2020 Kia Telluride vs Honda Pilot
2020 Kia Telluride vs Honda Pilot
One of these SUVs is not like the other. While the Kia Telluride is an all-new model debuting at the turn of the decade, the Pilot has been around for some time. No doubt, the 2020 Pilot will be largely unchanged from its previous model year, when this Honda mid-size SUV underwent a major facelift. In this comparison guide, we scratch the surface on styling and then take a tour inside these three-row SUVs before delivering our recommendation. Which three-row SUV is the right option for you?
Styling: 2020 Kia Telluride
In a word, the 2020 Kia Telluride is stunning. This SUV wows from every angle. Its nose reminds us of the pony car, its front lines like a large sedan, its roofline like a rugged sport utility vehicle. Somehow, in a design triumph, the Kia's largest vehicle all blends harmoniously and gives viewers the sensation of movement, even when at a standstill. The Telluride is one of the most attractive SUVs we've seen, which is no small feat in a vehicle this size. Take a look at the photos and see for yourself.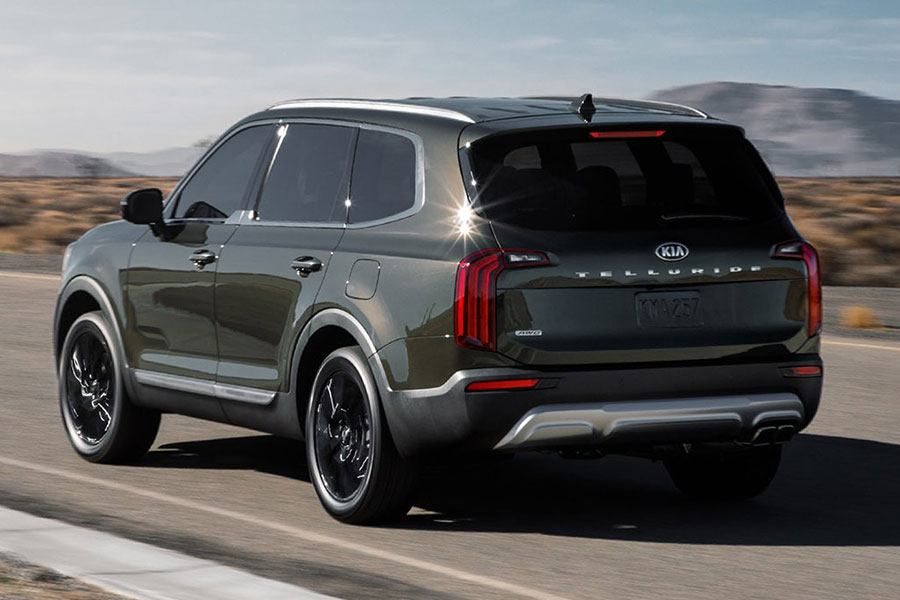 Even after its 2019 facelift, the Honda Pilot still reminds us of a minivan. Okay, so Honda replaced the grille with a sportier grille and they added faux skid plates. But from where we're sitting, just elongate the nose a bit and the Pilot is a mid-sized minivan. Look at that profile and see if you agree. We aren't knocking the styling of minivans. But an SUV should look like an SUV, right?
Interior Technology: 2020 Kia Telluride
Kia has a reputation for being tech-savvy. And here's more proof. The Telluride comes standard with LED positioning lights, an 8-inch touchscreen display with UVO infotainment system and two USB charging ports on each row (6 altogether). This Kia comes with a Smart Key with Push-Button Start. And if that's not enough, there are tons of available options, like a larger 10.25-inch screen, Navigation, Harmon Kardon premium audio, interior mood lighting, surround-view monitor, head-up display, and more.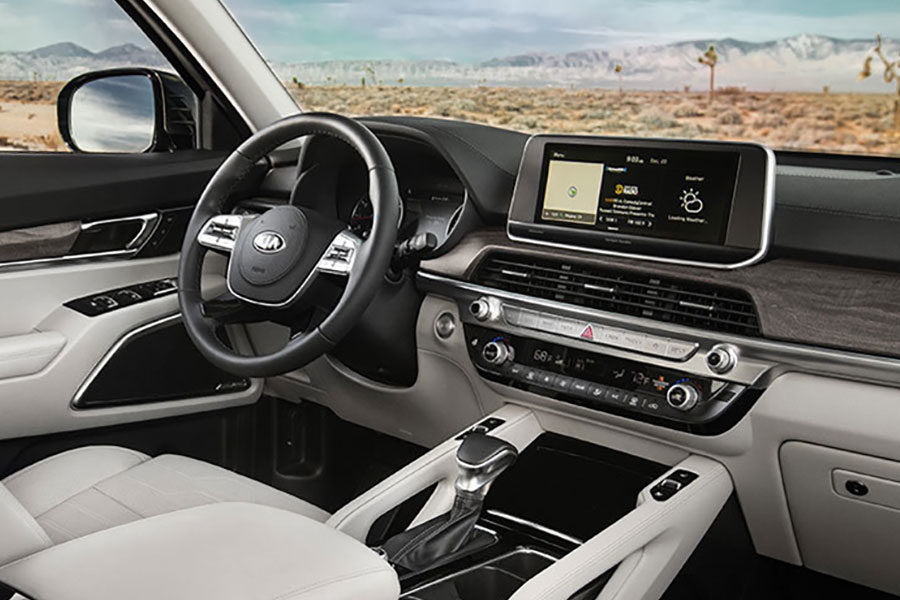 Everything about the Pilot's tech feels smaller and cheaper. The standard screen is a mere 5-inch. You'll find only 2 USB ports, and smartphone integration isn't standard. The one advantage that we can see in the Pilot is the rear-seat entertainment. Otherwise, the tech category is a landslide for the Telluride. A lot of people hailed Honda for reintroducing the physical volume knob after a ten-year absence, so we made sure to look for one in the Telluride. Not to worry: it's there.
Engine and Towing: Tie
The 2020 Telluride offers only one engine, but it's a good one: a 291-horsepower 3.8-liter V6. We haven't seen any torque numbers, but there's another indication that the engine is up to snuff. The Telluride is slated to tow up to 5,000 pounds, when properly configured. That meets the Pilot's listed towing capacity with its 280-hp engine. It's probably safe to say these two are evenly matched in power.
The buzz surrounding the 2020 Kia Telluride is hard to ignore–and that's because the Telluride checks all the boxes on the "dream third-row SUV' list that most buyers have: easy access to the third row, posh interior, technology that matches a busy lifestyle, performance that matches, and a design style that sets it apart from competitors.