2019 Kia Optima vs Honda Accord
2019 Kia Optima vs Honda Accord
Last year the Honda Accord topped many lists of mid-size cars. But the Accord definitely doesn't win in every category. How will the Accord fare in 2019? In this comparison guide, we also take a look at the Kia Optima. We think you'll see there's reason to consider a change of pace.
Price: 2019 Kia Optima
Kia has made a name for themselves in affordable luxury. And the Optima is no exception. Kia's mid-size car starts at just $22,900. For this low price, you get a 185-horsepower four-cylinder engine, six-speed automatic transmission with front-wheel drive, Apple CarPlay, Android Auto, Bluetooth, USB port, six-speaker audio system, UVO infotainment system with 8-inch touch screen, rearview camera, blind spot monitoring, rear cross traffic alert, rear parking sensors, forward collision avoidance assist, lane departure warning, lane change assist, lane keep assist, and driver drowsiness monitoring. Phew! If that sounds a lot, you're right. You'd be hard pressed to find that much tech right out of the gate on other cars. At the other end of the pool, the Kia Optima SX starts at $31,900 and comes standard with luxury like a 245-horsepower turbo-four engine and six-speed automatic transmission, panoramic sunroof, power-adjustable passenger seat, ventilated front seats, heated steering wheel, 10-speaker Harman Kardon audio system, HD Radio, and navigation.
Meanwhile, the Honda Accord starts at $24,615, but that gets you a very stripped down model that only offers dual-zone automatic climate control, driver drowsiness monitoring, and Honda Sensing. At the other end, to get the very best trim Honda has to offer, you need to pay $36,695. That'll give you exclusive standard features like head-up display, ventilated front seats, heated rear seats, 4G LTE with a Wi-Fi hot spot, wireless device charging, and front and rear parking sensors. We don't see a big difference in features; the Kia Optima gives you more, for less.

Warranty: 2019 Kia Optima
It's no secret that Kia offers a great warranty. Namely, their warranty is good for five-years or 60,000-mile bumper to bumper and 10-year or 100,000-mile for powertrain. That's one of the best warranties in the business. Meanwhile, Honda offers a three-year/36,000-mile limited warranty and a five-year/60,000-mile powertrain warranty. That's merely average among top manufacturers. If you want the peace of mind that comes with a long warranty, Kia has you covered.
Passenger Space: 2019 Kia Optima
You pay a lot more on an airline to stretch your legs. Why not choose the car with more leg room, all things being equal? The 2019 Kia Optima would be your pick. The Optima boasts 45.5 inches of front leg room and 39.8 inches of head room. You'll also find spacious accommodations in the back seat (35.6 leg room, 37.8 head room), enough for just about any adult to ride comfortably. After all, why sit in economy class in your own car?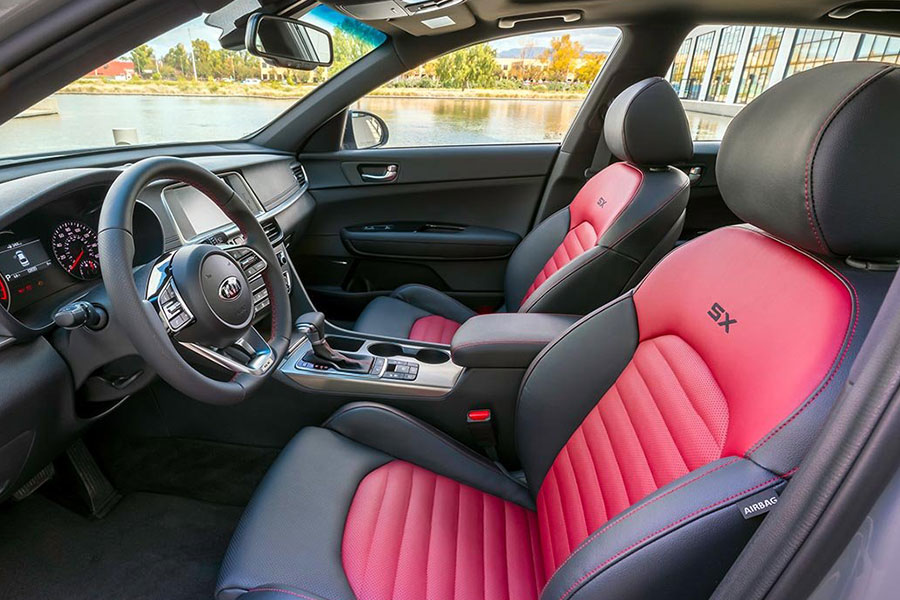 The 2019 Honda Accord offers less passenger space in every measurement, except for rear legroom (40.4 inches). Still the Accord, has less front leg room (42.3 inches), less front head room (37.5 inches) and less rear head room (37.2 inches). If you want a spacious car, that's where the Optima comes in.
The Honda Accord is a fine car, but if price, warranty, and space factor into your decision, you owe it to yourself to take a look at the 2019 Kia Optima.