2018 Kia Stinger vs BMW 4 Series
2018 Kia Stinger vs BMW 4 Series
It's time for a new automaker to dominate the Gran Coupe market–and that automaker, perhaps surprisingly, is Kia. The 2018 Kia Stinger is sportier, more comfortable, and faster than the BMW 4 Series Gran Coupe–and it will cost you less too.
Stinger vs BMW 4 Series: How Do They Drive?
When you're comparing a gran coupe, you start under the hood. In this case, the Kia Stinger outpaces the BMW 4 Series Gran Coupe. The Kia Stinger, like the BMW 4 Series, offers drivers two engine options, but the V6 is the faster, more entertaining option. The Kia 3.3L twin-turbo V6, found in the GT, GT1, and GT2 trims, offers an impressive 365 horsepower and 376 lb-ft of torque with a 0 to 60 rate of 4.7 seconds. Compare that to the BMW, which can only offer 320 horsepower and 330 lb-ft of torque, though the 0-60 is only 0.1 seconds behind the Stinger. Both of these vehicles pride themselves on responsive handling and a structure that hugs the road, but if you want fast, powerful performance–the Stinger is your best bet.

Stinger vs BMW 4 Series: How Do They Look?
Both the Stinger and the BMW look like they're meant to look–low-slung, sculpted, aerodynamic, and impressive. The BMW looks, though, like a BMW–the car your doctor, your lawyer, or your neighbor drives. There's nothing particularly impressive about the 2018 design, though we do like the frameless doors and the coupe style. But the Stinger pulls out all the stops to impress anyone who looks at it–the design is arresting. The fastback design includes the long hood, steep windshield, and low cabin that you'd expect, combined with unique rear designs, bold exterior colors, and aggressive metallic accents. When you see the Stinger, you see a gran coupe–but without the price tag of a luxury vehicle.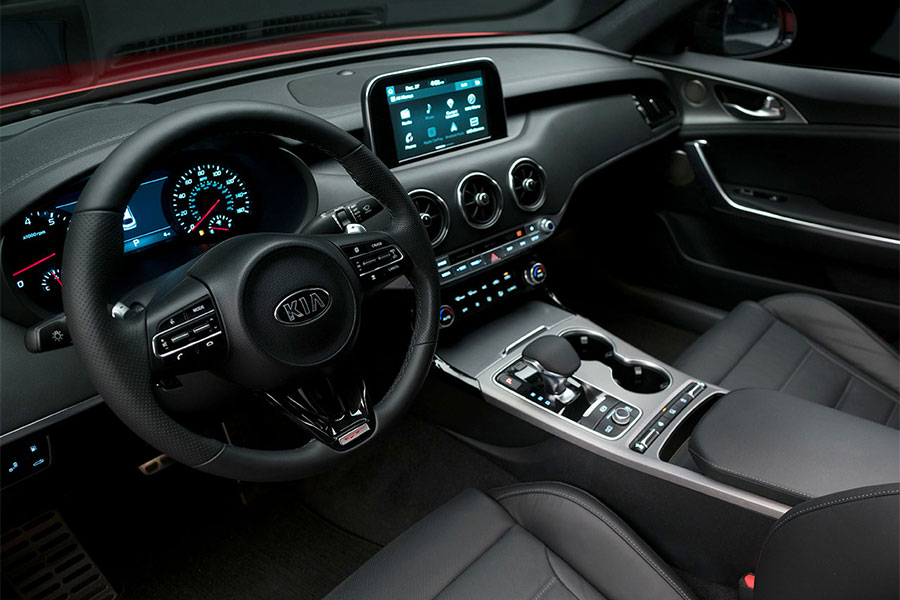 Stinger vs BMW 4 Series: What About The Interior?
Though it's nice to have a car that looks good, drivers spend the most time behind the wheel–so the interior has to deliver even more impressive style and sophistication. At every point, the thoughtfulness of the Stinger's design is clear. Riffing off of an aeronautical design, the interior offers a wing-like dashboard and circular spoked air vents, along with seats that are both low and sleek and ergonomic and comfortable. The BMW also offers an impressive interior, with some tech features like wireless charging and Wi-Fi hotspot that drivers on the go will enjoy and a standard audio system that blows the Kia out of the water. However, the BMW doesn't offer heated, leather seats as standard (the Stinger does!) and has less leg room than the Stinger as well.