2018 Kia Sportage vs Mazda CX-5

We are currently updating our monthly offers. Please check back shortly for updates.
In the meantime, here are some links that you might find helpful:
For smooth-riding speed, proficient fuel economy, and spacious seating – front and rear – choose a small crossover like the 2018 Kia Sportage or Mazda CX-5. Both of these models have what it takes to deliver you to work in comfort and, when the weekend hits, they'll take you across state lines just as cozily. Before you shop for your new crossover, read our comparison guide to find out which model is worth your time – the Sportage or the CX-5.
2018 Kia Sportage vs Mazda CX-5
Creature Comforts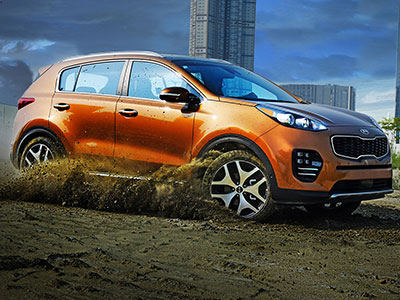 The Kia Sportage puts you up in a spacious cabin – so spacious that even tall adults will enjoy outstanding head and leg room in both rows. Another big draw is the Sportage's high-quality materials. The Sportage cabin won't squeak or rattle as you make your way down the road, thanks to its solid build. When you're on your next road trip, you'll enjoy plenty of room for your luggage, with 30.7 cubic feet behind the rear seats.
When you test-drive the Mazda CX-5, the first thing you'll notice is its quiet performance. Besides minimizing wind and road noise, this crossover also quells bumps, smoothing out your ride on rocky roads. Although both models have about the same amount of space in their front rows, the Sportage is slightly roomier in the back row.
Technology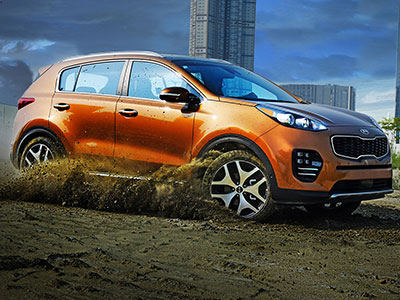 In the Sportage, you'll enjoy all the latest in smartphone innovation. Apple CarPlay and Android Auto technology include access to your phone's voice controls. That means you can have the central Uvo infotainment system read you your text messages or guide you to the nearest gas station – all without lifting a finger from the wheel.
In the Mazda CX-5, the central touchscreen is only operational when you're stopped, a safety feature that will minimize on-road distractions. While you can't get Apple CarPlay or Android Auto in the CX-5, you can still use Bluetooth for basics like hands-free calls or music streaming. You can also add up to four USB ports to keep all your devices charged on the go.
Power and Performance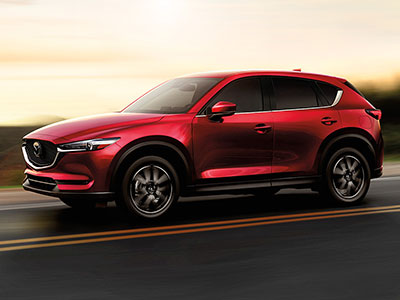 Like its fellow Mazdas, the CX-5 is designed with sporty drivers in mind. Handling is crisp and responsive, so you can take corners with certain athleticism. You'll also be impressed with its steering. When you've got both hands on the wheel, this crossover's sharp steering gives you precise control over performance.
Like the CX-5, a properly equipped Kia Sportage can tow up to 2,000 pounds. If you've got a four-wheeler or a Jet Ski take out into the wilderness, the Sportage will oblige. Add all-wheel drive, and you can head down light off-road trails, like those at campsites and beaches, with maximum traction. The 2018 Kia Sportage may not be quite as agile as the CX-5, but it puts up a good fight with a smooth, quiet ride and its own brand of sharp steering.
Safety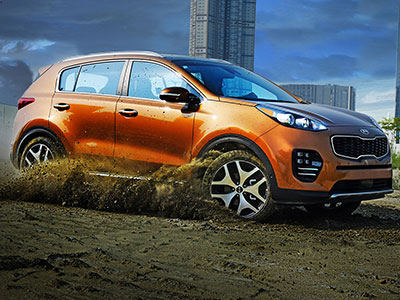 In government crash tests, the 2018 Kia Sportage earned a perfect five-star rating for overall protection. In addition to all the basics – think anti-lock brakes and airbags – it comes standard with a rearview camera. Add Uvo telematics and you can cruise around with total peace of mind, knowing that you've always got features like stolen vehicle tracking and emergency roadside assistance at your command.
Like the Sportage, the CX-5 offers a number of driver aids that alert you to potential danger. All models come with low-speed automatic braking, which can come in handy when you're moving through crowded city streets. However, the Sportage's forward collision system is more sophisticated, with automatic emergency braking at any speed.
Learn More about the Kia Sportage

The 2018 Kia Sportage is family transport at its finest. It delivers a roomy cabin, SUV-like utility, and world-class safety – and all at a fair price. During your travels, the wide, plush seats keep you comfortable. Infotainment options, including complete smartphone integration, are designed to keep you connected with minimal distraction. Overall, the Sportage gives drivers what they need to successfully navigate daily life.