2018 Kia Sorento vs Hyundai Santa Fe

We are currently updating our monthly offers. Please check back shortly for updates.
In the meantime, here are some links that you might find helpful:
Mid-size crossover SUVs – namely, the 2018 Kia Sorento and Hyundai Santa Fe – have major appeal for buyers who need extra passenger space and rugged utility. These crossovers span the gap between compact models, with increased passenger space, and full-size SUVs, leaving less of a footprint on your wallet and the environment. Which is best for your family, the Sorento or the Santa Fe? Our comparison guide can help you figure things out.
2018 Kia Sorento vs Hyundai Santa Fe
Passenger Space & Comfort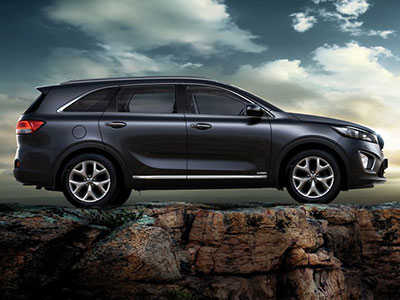 The Sorento is available in five- or seven-passenger configurations, so you get to select the model that works for your family. With the standard third-row seats, you have extra space for kids. Behind the rear seats, there's ample cargo space for your weekend bags and beach gear. The firm, supportive seats are great for long trips. The Sorento also does an excellent job of cushioning you on rocky roads, absorbing bumps for one of the smoothest rides in the segment.
When you test-drive the Hyundai Santa Fe, you can choose between six- and seven-passenger configurations. It, too, offers interior refinement, with high-quality materials and adjustable seating in both the first and second rows. You'll quickly find that sweet spot behind the wheel, and your kids can slide and recline in the second row for maximum legroom. The ride isn't quite as smooth as in the Sorento, but, overall, the Santa Fe is easy to live with.
Modern Technology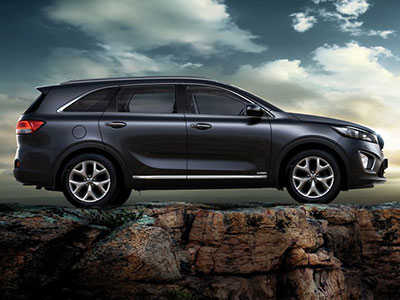 With the Sorento, you can keep up with what's happening on your smartphone without actually looking at it. Apple CarPlay and Android Auto technology display apps like Phone and Messages on your central touchscreen, putting them within safe reach of the driver seat. You can even use your phone's Maps app through the central infotainment system, which eliminates the need to pay extra for a navigation system.
We like that the Hyundai infotainment system features both regular, physical buttons and virtual ones on the touchscreen, making it easier to deal with in heavy traffic. However, Kia's Uvo interface feels more intuitive to us – it's the right choice for drivers who want an uncomplicated experience. That said, you can get your Hyundai Santa Fe with Apple CarPlay and Android Auto for complete smartphone integration.
Safety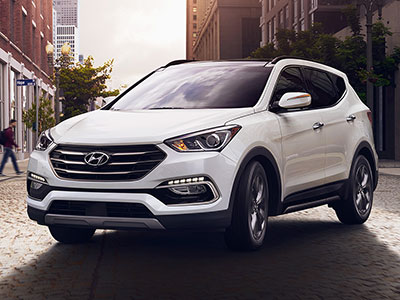 The new Santa Fe has the edge when it comes to safety. It earned a perfect five-star rating for overall protection in government crash tests. The Blue Link emergency telematics system comes standard on every model; it provides life-saving features like emergency assistance. The rearview camera is also standard equipment. It enhances visibility, helping you avoid running over stray obstacles that would normally be out of sight, like skateboards.
In government crash tests, the 2018 Kia Sorento also earned a perfect five-star rating overall. It, too, comes standard with a rearview camera, but not an emergency telematics system. Like the Santa Fe, the Sorento offers driver aids designed to help you avoid an accident, includind forward collision warning.
Power & Performance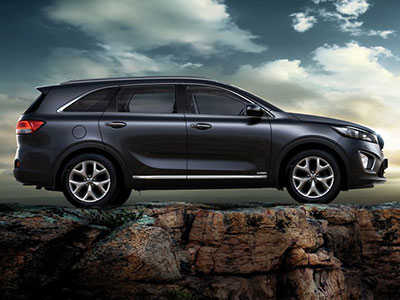 The 2018 Kia Sorento takes the lead in terms of fuel economy, earning up to 21 city/28 highway mpg. It's also big on utility, giving you the ability to tow up to 5,000 pounds. With that kind of power, you'll be hauling the family boat to the shore every single weekend. This crossover is also pretty quick, getting you up to speed with the best of them.
Depending on powertrain, the Hyundai Santa Fe earns up to 21/27 mpg. It, too, has a max tow rating of 5,000 pounds, making it a great pick for hauling watercraft and dirt bikes. Both models offer all-wheel drive, which means extra traction on light trails and icy pavement. The Santa Fe isn't quite as refined on the road, but it still inspires confidence with its sharp steering and responsive handling.
Learn More about the Kia Sorento

In the 2018 Kia Sorento, you're getting the whole package – from rich passenger comfort to a smooth, strong ride. It's the perfect pick for families who like to adventure, drivers who crave savvy smartphone features and all the latest in high-tech safety gear, and car enthusiasts who want a smooth, responsive ride and ample power.