2018 Kia Forte vs Hyundai Elantra
2018 Kia Forte vs Hyundai Elantra
With so much in common, the 2018 Kia Forte and Hyundai Elantra make it difficult to choose just one. These compact cars have a lot to offer, from world-class safety to high-end comfort. And they deliver all of this at an impressively low price. Which model is right for you? Check out our comparison guide to learn more.
Best Value: 2018 Kia Forte
Although both the Kia Forte and the Kia Elantra have similar starting MSRPs, the base Forte LX is the model that's got everything you need. This includes full power accessories, USB connectivity and a four-speaker sound system. Add the Popular package to your LX for increased technology, such as the 7-inch touchscreen infotainment system. The Forte also includes Android Auto and Apple CarPlay connectivity for complete smartphone integration.

If you're shopping for a Hyundai Elantra, you'll be happier with the mid-grade SEL model than the base SE. This means spending a bit more, but the SEL includes the latest infotainment upgrades, including the 7-inch infotainment display with Android Auto and Apple CarPlay capabilities.
Comfiest Cabin: 2018 Kia Forte
With slightly more head room in its front row, the Kia Forte inches ahead of the competition. We're also fans of the Forte's classy cabin, which features high-quality materials and the kind of ergonomics you can settle into for the long haul. Depending on how much you want to spend, Forte sedans and hatchbacks offer every luxury, including stylish leather upholstery.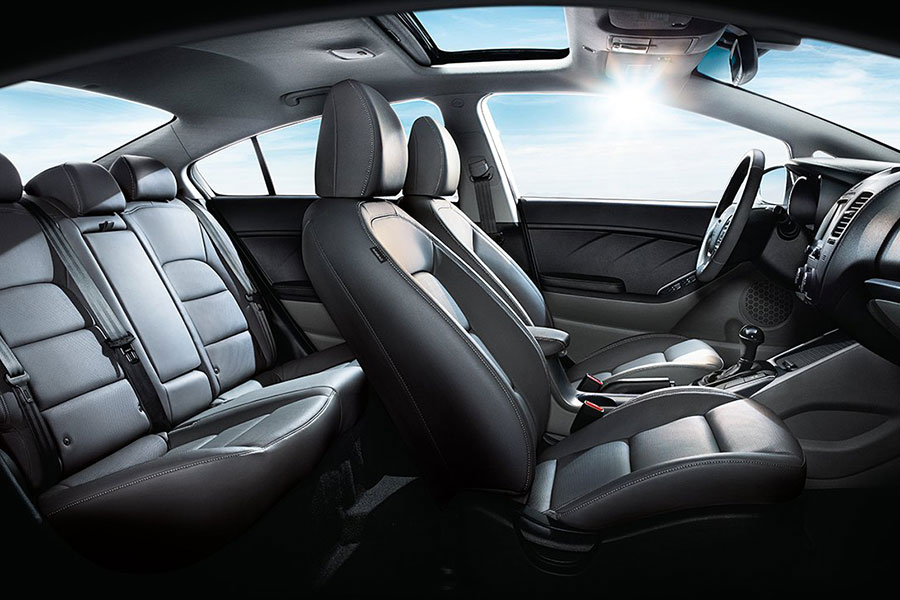 Both models offer the same amount of rear-seat head- and legroom, so you can count the Elantra in as a modern family hauler. Like the Forte, it offers a wide range of comfort features – such as a height-adjustable driver seat and dual-zone automatic climate control. In addition to slightly less front headroom, the Elantra also offers less cargo space, with 14.4 cubic feet to the Forte's 14.9 cubic feet in sedan models. (The Forte hatchback offers even greater improvement over the Elantra, with 23.2 cubic feet of cargo space for your golf bags and weekend supplies.)
Safest Ride: It's a Tie!
Here, the 2018 Kia Forte and the Hyundai Elantra have so much in common that we had to call it. The Insurance Institute of Highway Safety put both the Forte and the Elantra on their 2018 Top Safety Pick+ list. The IIHS also gave both models a rare score of "Superior" for their front crash prevention systems. This technology detects an imminent accident and automatically hits the brakes to help you and your loved ones stay safe.
Most Mileage: 2018 Hyundai Elantra
The Hyundai Elantra actually offers the thriftiest ride, thanks to its special Elantra Eco trim. With its turbocharged 1.4-liter engine and seven-speed automatic, this model is ready to deliver 32 city/40 highway mpg.

The 2018 Kia Forte doesn't offer a special trim model to maximize fuel economy, but it still provides a pretty economical ride. Depending on powertrain configuration, this peppy compact earns up to 29/37 mpg.
The competition between the 2018 Kia Forte and Hyundai Elantra is certainly a stiff one. However, the Forte is our overall choice. We like its roomy, well-equipped cabin and excellent overall value. And, with its excellent safety ratings, you'll always feel at ease on the highway.