2017 Kia Sportage vs Toyota RAV4

We are currently updating our monthly offers. Please check back shortly for updates.
In the meantime, here are some links that you might find helpful:
Few compact crossovers deliver a combination of style and versatility like the 2017 Kia Sportage and Toyota RAV4. Inside, they're comfortable and modern, with roomy seating and smartphone integration options. On the road, they're swift and fuel-efficient. Which crossover is right for you? Read our guide to find out more.
2017 Kia Sportage vs Toyota RAV4
Passenger Comfort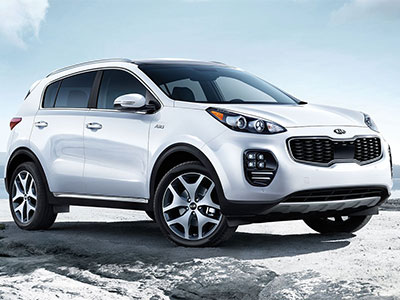 After a full redesign, the Sportage is now roomier and more luxurious than ever. You can fill the cabin with 6-footers – both rows have enough head and leg room to give everyone an immensely comfortable ride. The driver seat is especially customizable; its bottom cushion tilts to help you find that perfect seated position.
Like the Sportage, the Toyota RAV4 cabin is known for its roominess, offering spread-out space for the whole family. This crossover also supplies a comfortable ride, smoothing over most bumps in the road. If it were up to us, we'd throw in a few more storage bins for carry-on items like smartphones and sunglasses, but, other than that, the RAV4 cabin is pretty solid.
Technology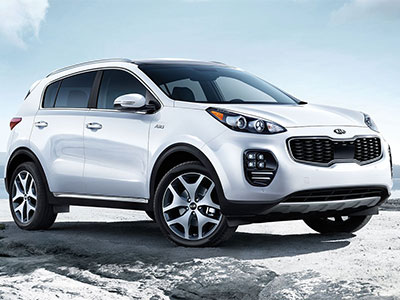 You can't beat the Sportage for staying connected on the go – and doing so safely. The Uvo infotainment system is responsive and easy to figure out, so even if you're not especially tech savvy, the navigation and satellite radio apps won't give you any trouble. Apple CarPlay and Android Auto technology displays smartphone apps directly on your central touchscreen. Instead of have to look down at your phone, important apps like Phone and Maps are always in your line of sight.
In the Toyota RAV4, the Entune infotainment system is designed to make life simpler. It doesn't feature Apple CarPlay and Android Auto for complete smartphone integration, but you can still do the basics, including hands-free calling. The touchscreen is also responsive and intuitive, which means anyone can use it.
Safety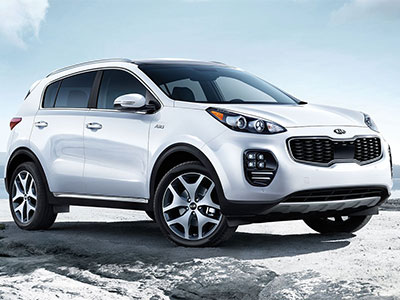 With its top crash-test scores and driver safety aids, the 2017 Kia Sportage is firmly in the lead. Both the rear- and all-wheel-drive models earned perfect five-star ratings in government crash tests. The Uvo telematics system is ready for just about anything that might come your way. Remedy unexpected breakdowns with the roadside assistance feature. After a crash, the emergency notification feature automatically calls for help.
Like the Sportage, the Toyota RAV4 includes all the latest driver aids. These high-tech systems use radar to spot danger and alert you before anything goes wrong. With forward collision mitigation, the RAV4 does more than warn you – it automatically applies the brakes, reducing damages or even helping you avoid them completely. The RAV4 also earned the government's top five-star safety rating. The only thing missing is Kia's handy emergency telematics system.
Performance and Fuel Economy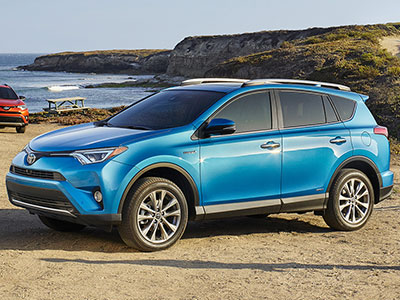 In this category, the RAV4 caught our attention. For starters, it earns up to 23 city/30 highway mpg, so you can make the most of what you spend at the pump. This crossover is also great for commuters, delivering a smooth, quiet ride that feels comfortable for miles on end.
In the Sportage, you can also earn up to 23/30 mpg. This year, Kia has retuned the Sportage for a smooth, comfy ride. We wish the optional turbocharged engine packed a bigger punch, but it still gets you around with plenty of style.
Learn More about the Kia Sportage

The 2017 Kia Sportage and Toyota RAV4 have a lot to offer families and commuters – including a smooth, comfortable ride. However, the Sportage is our overall pick for tech-savvy, luxury-loving drivers. Apple CarPlay and Android Auto connectivity gives you the latest in smartphone integration, so you can call home with minimal distraction. And, after a redesign, this crossover is especially spacious meaning trips of all lengths stay comfortable. The Sportage is our recommendation in this side-by-side comparison.