2017 Kia Soul vs Honda HR-V

We are currently updating our monthly offers. Please check back shortly for updates.
In the meantime, here are some links that you might find helpful:
It's probably fair to say that not everyone was convinced about the Kia Soul when it was first unveiled, but it's also equally fair to say that the Soul has also been a wild success since its debut. Honda may be trying to capture some of that youthful, energetic energy with its new HR-V, but let's see if it can really compete with the Kia Soul.
2017 Kia Soul vs Honda HR-V
Styling: Kia Soul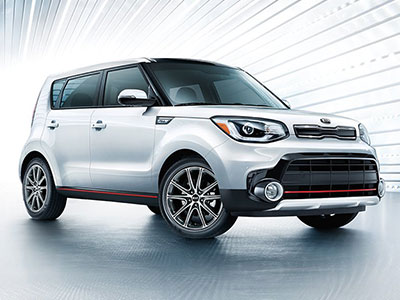 Some people don't like the way the Kia Soul looks, but those critics are overwhelmingly outnumbered by those who absolutely love its boxy, no-compromise approach to styling. Whether you're buying an entry model or a top-of-the-range Soul, the Soul proves that funky, dynamic, youthful style doesn't have to cost a fortune. We're hardpressed to think of any other vehicle that could look so good yet cost so little.
By way of complete contrast, the HR-V is a compact crossover that looks a bit like an afterthought. The HR-V's look tells a story–but its one that will put you to sleep. The nose is stubby without being rugged, and the rest of the Honda looks like nearly any other crossover in the range. In short, the HR-V's lack of personality is in sharp contrast to the Kia's bold presence.
Power and Performance: Kia Soul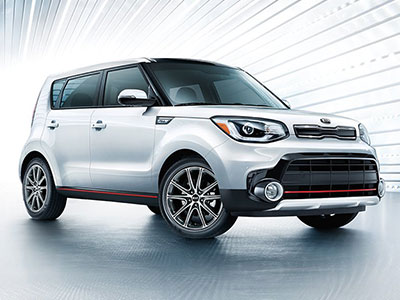 The achilles heel in the Soul's armory of attributes used to be an engine that was as much fun as its styling. But Kia's fixed that problem with a fun and lively 1.6-liter turbo-four, which delivers 201 horsepower, 195 lb.-ft. of torque, and a lot of smiles on the face of the driver. Drivers can also opt for two other engines, a base 1.6-liter four-cylinder unit developing 130 horsepower and a 2.0-liter version with 161 horsepower. Six-speed manual, six-speed automatic and a seven-speed dual clutch transmission are available, but you won't find all-wheel drive anywhere in the Soul range.
Your only option for the Honda HR-V is a 1.8-liter inline-four, which is mated to either a six-speed manual or a CVT transmission. Although all-wheel drive is available with the Honda, the 141 horsepower of the engine is well below-par, and the lack of an alternative engine hands another big victory to the Kia.
Interior: Kia Soul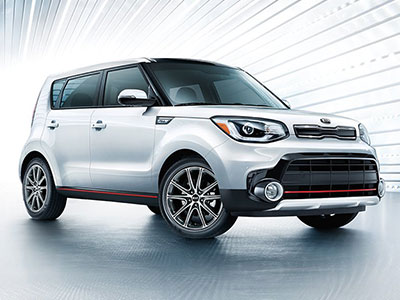 Although unashamed about its compact exterior, the Kia Soul offers an almost unbelievable amount of room inside. In fact, the Kia can accommodate five people, as long as you're not planning on doing a full Route 66 road trip, of course. You'll find good levels of passenger and cargo space, and the flexibility and quality of the seating is impressive. The personality of the Soul extends to its interior, which features seats with contrast stitching on some models, a large and accessible touchscreen with buttons and knobs as well (for those who don't love the touchscreen life), and available mood lighting that changes with music or stays static.
Flexibility is also a big feature of the HR-V interior, especially with Honda's near-legendary "Magic Seat" system which folds and flips so the second row can be transformed into a large cargo space. You'll find basically the same amount of passenger room in the interior, as well. The finishes are nice but, like the exterior, they're what you'd find in your grandma's sedan–a nice but subtle dash, an accessible but small touchscreen, leather seats on some trims that could have been taken out of any other model.
Fuel Economy: Honda HR-V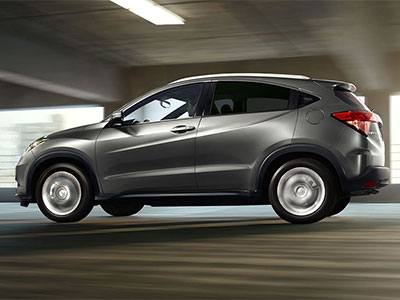 Compacts and subcompacts have to be efficient, even when they're of the crossover variety. Perhaps surprisingly, the new 1.6-liter turbo-four with the seven-speed dual-clutch transmission is the fuel economy champion of the Soul family, with EPA-estimated ratings of 26 mpg in the city, 31 mpg on the highway and 28 mpg combined.
In front-wheel drive form with the optional CVT transmission, the Honda HR-V is good for 28 mpg in the city, 34 mpg on the highway and 31 mpg combined, which just edges out the Kia.
Learn More about the Kia Soul

The styling alone of the 2017 Kia Soul is enough for us to claim it to be the winner over the Honda HR-V, but scratch below the surface and there's more to recommend about the Soul than just a funky body shell. The Soul matches the Honda for space, practicality and versatility, but adds a more powerful and enjoyable engine to the mix.