2017 Kia Sorento vs GMC Acadia

We are currently updating our monthly offers. Please check back shortly for updates.
In the meantime, here are some links that you might find helpful:
With multiple seating configurations and sporty utility, mid-size crossovers like the 2017 Kia Sorento and GMC Acadia will transport you through life's big adventures. Which model should you test-drive first? Read our comparison guide to learn more about how these crossover SUVs will work with your lifestyle.
2017 Kia Sorento vs GMC Acadia
Cabin Comfort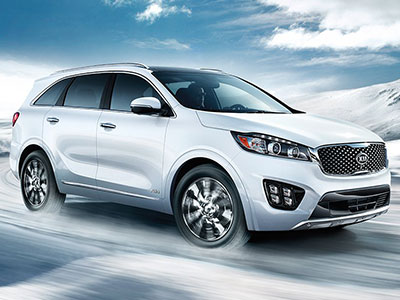 For comfort, the Sorento is the crossover to beat. The cabin is home to attractive, high-quality materials, including spacious, supportive seats. Select one of the two-tone color schemes to put your own personal touch on the Sorento's interior style. Choose the configuration you need – five or seven passengers – to create the perfect family hauler.
The newly redesigned GMC Acadia also offers a range of seating configurations – choose a model that seats five, six, or seven passengers. With so many options, it's easy to create an Acadia that will transport your family cross-country. While this crossover is certainly spacious, it's not quite as luxurious as the Sorento. After a few hours on the road, passengers may wish for a little extra leg room – especially in the third row.
Technology & Convenience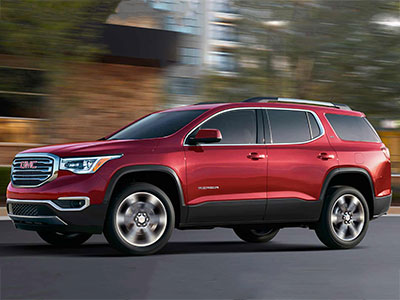 When it comes to keeping you connected with minimal distractions, the GMC Acadia is on-point. Its 7-inch touchscreen caters to your oft-used apps, so they're always at your fingertips. The infotainment system also features Apple CarPlay and Android Auto, technology that displays smartphone apps directly on your central touchscreen. In addition to making calls and using your phone's Maps app, you can use your phone's sophisticated voice controls via the central system.
As in the Acadia, the Sorento's Uvo infotainment system offers quick-and-easy Bluetooth pairing. From there, it's easy to use the Android Auto/Apple CarPlay technology to access your phone's Maps app on the central touchscreen. While both infotainment systems have a lot in common, you have to pay extra for complete smartphone integration in your Sorento. In the Acadia, this technology is standard equipment.
Power & Performance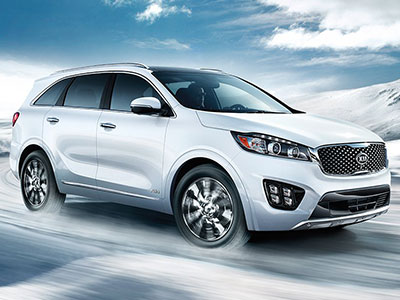 The 2017 Kia Sorento powers ahead with both a sophisticated ride and rugged towing capabilities. When you hit the throttle, the powertrain is quick to respond with merge-friendly speed. Properly equipped, these crossovers can tow up to 5,000 pounds. If you've got a pretty big boat at home, the Sorento is the model for you. It'll also save you the most at the pump – depending on configuration, this SUV earns up to 21 city/28 highway mpg.
Of course, the GMC Acadia follows close behind, earning up to 21/26 mpg. With the engine upgrade, you'll never lack for power. Just hit the throttle and you'll be up to speed in no time. Properly equipped, the Acadia tows up to 4,000 pounds. That's not as much as the Sorento, but it's still plenty of capability for Jet Ski enthusiasts.
Safety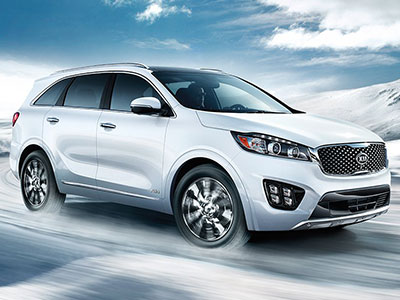 The 2017 Kia Sorento is also our pick for safety. In government crash tests, it earned a perfect five-star rating for overall protection. The Sorento also puts you at ease with all of its high-tech driver aids, which are designed to alert you to immediate danger. These include forward collision warning – a system that can actively apply the brakes when it detects an oncoming crash.
Like the Sorento, the GMC Acadia is available with all-wheel drive, generating extra traction for greater control on wet or snowy roads. However, with the Acadia, some models achieved better crash-test scores than others. All-wheel-drive models earned a perfect five-star rating for overall protection. Front-wheel-drive Acadias earned only four stars.
Learn More about the Kia Sorento

Both of these crossovers offer strong towing capabilities and generous stores of power, so you can travel in style. However, the 2017 Kia Sorento – with its comfortable, high-quality cabin – is our overall pick. In addition to superlative passenger comfort, this SUV delivers all the infotainment features you crave and its also well stocked in the safety department.