2017 Kia Sorento vs Ford Edge

We are currently updating our monthly offers. Please check back shortly for updates.
In the meantime, here are some links that you might find helpful:
Mid-size crossovers, like the 2017 Kia Sorento and Ford Edge, put a luxuriously modern spin on family transport. These models offer plenty of spread-out space for long road trips and commutes. If you're wondering how these two models compare, check out our buying guide to learn more.
2017 Kia Sorento vs Ford Edge
Interior Comfort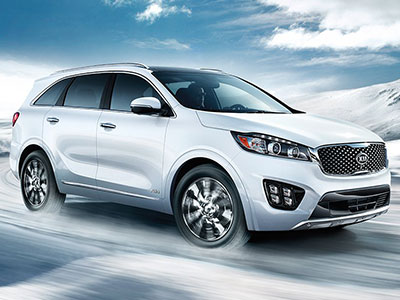 The Sorento puts comfort first, with generous space for your entire family. Big families can even add an optional third-row seat. And, even though it costs less overall, the Sorento is also the more stylish of the two crossovers, giving you the option of two-tone interior color schemes and increasingly upscale materials, like leather upholstery.
Similarly, the Edge cabin features soft-touch materials throughout, creating an upscale vibe. The center stack is the only exception – it's made out of plastic, and feels out of place in an otherwise stylish cabin. Seating is spacious and comfortable, but you can't add an optional third-row seat like in the Sorento.
Technology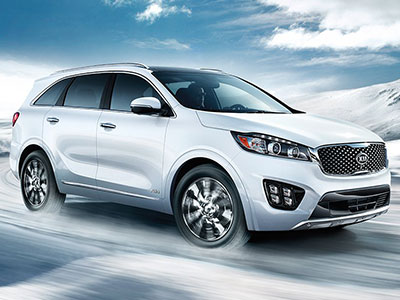 Your Kia Sorento specializes in infotainment. The Uvo touchscreen interface is quick to respond to your touch, a feature that cuts down on driver distraction. The system also includes Apple CarPlay and Android Auto for complete smartphone integration. This innovative technology displays smartphone apps, including Messages and Maps, directly on the Sorento's central touchscreen, takes away the temptation to look at your phone while driving.
In the Ford Edge, you get the Sync 3 system, which also includes an easy-to-use touchscreen interface. Just like in the Sorento, you can use the Edge's voice controls to modify infotainment settings – all without lifting your hands from the wheel. In short, you end up getting a similar collection of tech features – but, because the Edge costs more, you end up paying more for them.
Safety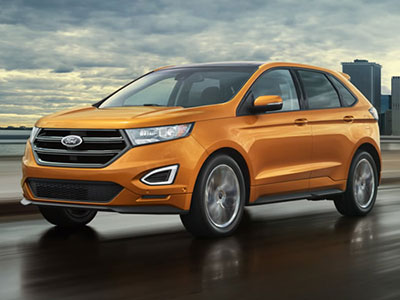 The Ford Edge breaks new ground with innovative safety features, making it our pick for safety. The Curve Control stability control system detects speed carried into a corner, and even automatically reduces speed to help you avoid needless accidents. All Edge models also come with the Sync system, which includes a 911 Assist feature that automatically contacts emergency services when the airbags deploy. Parents can use the MyKey system to set speed limits for newly licensed teens, which means more safety for them and increased peace of mind for you.
Still, the 2017 Kia Sorento has a lot in common with the Edge. In government crash tests, both the Sorento and Edge scored perfect five-star ratings for overall protection. Like with the Edge, you can add an abundance of high-tech driver aids to your Sorento. These use radar to scan the road around you and alert you to danger. The forward collision mitigation system even intervenes, applying the brakes to mitigate damages when it senses a forthcoming crash.
Power & Performance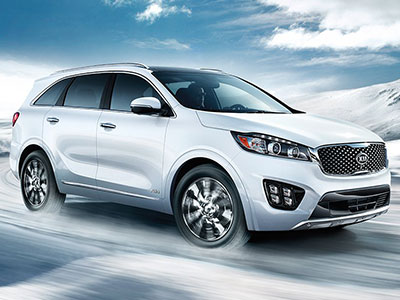 In the 2017 Kia Sorento, there's adventure around every corner. This crossover combines sporty handling with maximum fuel economy. It earns up to 21 city/28 highway, so you can make the most of every drop of gas. With all-wheel drive, the Sorento goes all-in, maximizing traction on slick surfaces and increasing tow ratings to 5,000 pounds. With that kind of utility, you're always prepared for an impromptu boating excursion.
The Ford Edge is also great with fuel economy, earning up to 21/29 mpg – even slightly besting the Sorento on the highway. As with the Sorento, you can add all-wheel drive to the Edge to enhance performance on light off-road trails. However, if it's towing utility you crave, the Edge trails behind, with max tow ratings of only 3,500 pounds.
Learn More about the Kia Sorento

Both crossovers are designed for major utility and family comfort, but the 2017 Kia Sorento surpasses expectations every time. It's our overall pick because it blends all the features you want with all the technology you need for a safe, dependable ride. This mid-size crossover earned excellent crash-test scores, cabin comfort and style are at all-time highs, and the interior space gives you the room you need. The Sorento is clearly the right choice in this comparison.