2017 Kia Rio5

If you're looking for fun in your four-door, don't abandon hope! The sporty, strong 2017 Kia Rio5 is exactly what you're looking for in a vehicle. Combine performance with design and you've got a hatchback that delivers exactly what you need when you need it.
2017 Kia Rio5
The exterior of the Kia Rio5 has an aggressive front stance, low and athletic and ready to take on the road. A bold front fascia sets the Rio5 apart, as does the sleek lines of its hatchback body. A rear spoiler, body-colored heated mirrors, and the trademark Kia tiger nose grille gives you everything you need in a sporty, sophisticated small sedan.
The interior continues the sporty design, while also giving you the room you need for cargo and friends. The hatchback design, by its nature, gives you more room for strangely shaped cargo or extra-long loads, while also giving you room for five passengers. The interior is smaller than a full-size sedan, so beware that super tall passengers may not be comfortable for long periods of time. But anyone who rides in the Rio5 will enjoy the sporty touches, including paddle shifters and metallic accents, as well as the available leather seats.
If you're looking to stay connected, you'll love the UVO eServices and Bluetooth connections which allow you to access your smartphone without compromising your safety. A Smart Key, with push button start, makes it easier to get up and out on the road in a hurry and the rear camera display gives you those eyes in the back of your head that you've always wished you had. An available power sunroof and touchscreen gives your Rio5 the tech lover's dream vehicle.
None of that much matters if your Rio5 can't perform well, but ours can. The front-wheel drive Rio5 has a peppy 1.6L engine with a six-speed automatic transmission with Sportmatic shifting. You'll also get some pretty impressive fuel economy, with an average of 30 mpg, in one of the three trims that the Rio5 comes in. Don't worry that this sporty hatchback isn't safe-the Kia Rio5 has airbags that surround your passengers and the driver.

Rio 5-Door SX
Sport-tuned suspension and paddle shifters make the interior of the Kia Rio5 SX even more athletic and exciting than other trims. You'll also get all the features you might expect on a top-trim vehicle: power sunroof, 17-inch alloy wheels, UVO eServices with a 7-inch touchscreen equipped with voice navigation, as well as heated leather seats and aluminum pedals.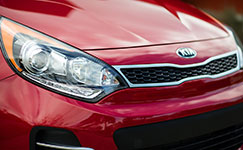 Aggressive Styling
A bold, black mesh radiator grill and the trademark Kia tiger nose look caps off the aggressive, lower stance of the Kia Rio5.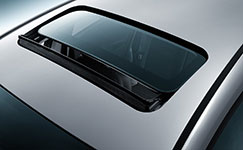 Power Sunroof
Sunshine inside and style out, the sunroof gives you a window to the world while you're stuck in traffic.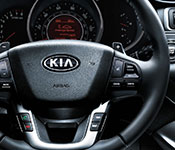 Paddle Shifters
Make quick shifts without moving your hands off the wheel with these steering-wheel mounted paddle shifters.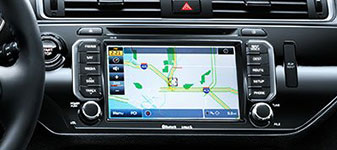 UVO eServices
Access apps, navigation, and other services using an easy-to-use touchscreen interface.