2017 Kia Optima vs Nissan Maxima

We are currently updating our monthly offers. Please check back shortly for updates.
In the meantime, here are some links that you might find helpful:
The Kia Optima and the Nissan Maxima are both 4-door sedans that seat five. But the similarities stop there. While the Optima is a mid-size car suitable for families, the Maxima is an upscale, sporty full-size car sometimes marketed as a "4-Door Sports Car" (4DSC). Both are great cars, but serve very different needs. Before you hit the dealership, check out our comparison guide. We'll help you decide which car is right for you.
2017 Kia Optima vs Nissan Maxima
Interior Comfort & Style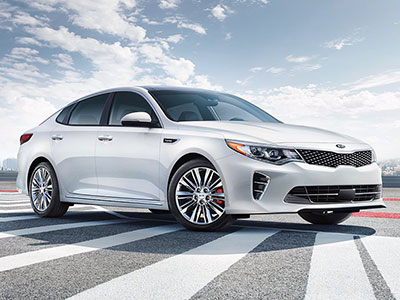 The Optima was built with families in mind. While the Optima and Maxima have nearly identical head and leg room for driver and front-seat passenger, the Optima affords several inches more room for backseat passengers. It also has far more cargo capacity: 15.9 cubic feet. The back seats fold down to hold even more. So unless you only plan on driving alone or with one passenger, the Optima will better suit your needs. While it doesn't have the luxury of a Maxima, the Optima's interior feels classy enough for most buyers at this price point, especially its premium trims.
The Nissan Maxima's cabin was modeled after the cockpit of the F/A-18 fighter jet. Accordingly, it has generous room in the front seat, but far less for backseat passengers and a cramped trunk with only 14.3 cubic feet of cargo space. Still, the Maxima's interior in all trims is practically luxurious–so buyers with frequent passengers may love the finishes but find the practicality lacking.
Technology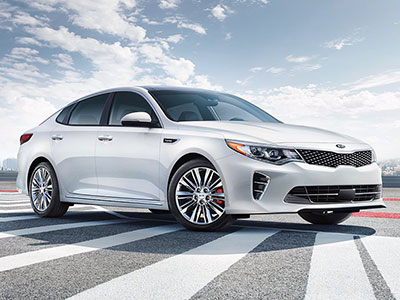 The Kia Optima has plenty of technology for its price but not as much as the Maxima. Though it may not offer as much technology, the Optima gives you more bang for your buck. All Optimas come with UVO infotainment system and 5-inch touchscreen, as well as satellite radio, six-speaker system, Bluetooth, USB port, rearview camera, Drive Mode Select, and remote keyless entry. There's also a dizzying array of safety features. That's a lot of tech for a reasonable price.
The Maxima comes with many luxury tech features standard. It has NissanConnect for your infotainment needs and Apple CarPlay to keep you connected. Standard safety features include blind spot monitoring, rear cross traffic alert, adaptive cruise control, and forward collision warning with forward emergency braking. All that technology is nice,but it comes with a steep price tag. The Kia gives you more for your money.
Fuel Economy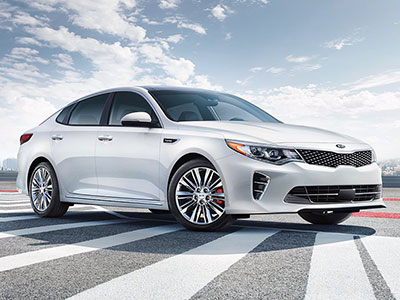 The Kia Optima has some of the best fuel economy in its class at 28/37 miles per gallon. If that's not good enough, there is also a hybrid option that gets 103 MPGe for those who want to save even more at the pump.
The Nissan Maxima has decent but ultimately inferior fuel economy compared to the Optima. It gets a workable 21/30 mpg, but the Maxima also takes only premium gasoline, further adding to the price of a tank of gas. The Maxima has superior acceleration and handling, but the steering isn't very responsive at lower speeds.
Safety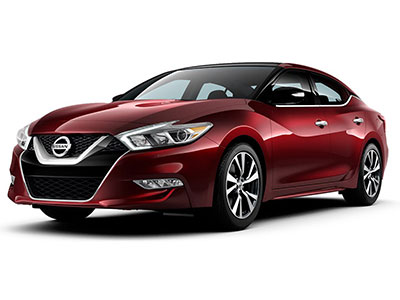 This category is a neck-and-neck race, because the Kia Optima and Nissan Maxima are both exceptionally safe vehicles. Both models earned the Top Safety Pick+ from the IIHS and have the standard safety features that nearly any vehicle in this class should have.
The Optima has a few things, like knee airbags and hill assist control, that the Maxima doesn't, but the Maxima comes standard with automatic emergency braking. It's hard to beat that active safety feature, in our minds.
Learn More about the Kia Optima

Far and away, the two biggest differences between the 2017 Kia Optima and Nissan Maxima are size and price. Most families will simply need more room than the Nissan Maxima can provide. Those looking for something affordable might find the Maxima to be financially burdensome. The Maxima might work for buyers who will likely only carry one other passenger–and who have extra cash to burn–but the overall best buy is the 2017 Kia Optima.