2017 Kia Niro vs Toyota Prius

Most of the hybrids you'll find on the market today are adaptations of existing models. Two notable exceptions are one of the trailblazers in the hybrid market, the Toyota Prius, and the newest dedicated SUV hybrid, the Kia Niro. What they have in common? The hybrid platform–but not a lot else. So which hybrid path do you want to go down? Before you hit the dealership, check out our comparison guide.
2017 Kia Niro vs Toyota Prius
FUEL ECONOMY: Toyota Prius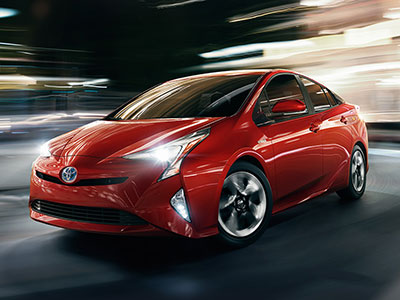 The most important consideration for a hybrid for buyers: fuel economy. The 2017 Kia Niro does admirably well in this area, getting 51 city miles and 46 highway miles per gallon. Compare that to any conventional gas-guzzler, and you'll be saving hundreds of dollars every year at the pump.
But the Toyota Prius does even better, getting an astounding 54 city and 50 highway miles per gallon. Experts estimate it'll save you $50 at the gas pump every year over the Kia Niro. That's not a huge difference, and definitely not the only thing on which you'll base your decision.
INTERIOR COMFORT & STYLE: Kia Niro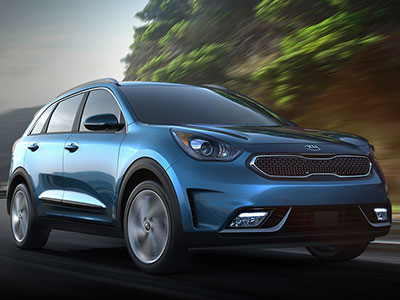 Driver and passengers will enjoy the spacious front and back seats of the 2017 Kia Niro. This hybrid SUV fits five in an upscale, clutter-free cabin with partial leather seats standard. Because it was designed first as a hybrid, the battery doesn't take up valuable interior space, which means you'll get a full 19 cubic feet of storage space with all of the seats up.
The compact Prius offers a comfortable ride for even long-legged adults in the front, but it's not quite so nice for those in the back. Back seat passengers will have enough head room, but they'll feel the pinch in leg room. Still, the Prius has a refined interior and a quiet cabin. The Prius also leads its class for cargo space, offering an impressive 25 cubic feet–but we think the passenger space is likely to be most important for most buyers.
INFOTAINMENT & TECHNOLOGY: Kia Niro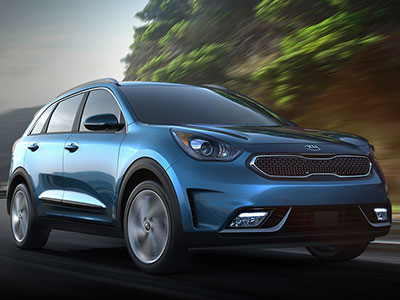 The 2017 Kia Niro boasts the intuitive and responsive UVO infotainment system on all its models, along with Apple CarPlay and Android Auto for smartphone connectivity. A whole host of tech comes standard on the Niro, including a 7-inch touchscreen, physical knobs and buttons for easy access, a six-speaker sound system, rearview camera, Bluetooth, USB port, and satellite radio. Buyers can also choose to add push-button start, rear USB port, surround sound eight-speaker audio system, sunroof, 8-inch touchscreen with real-time traffic conditions, and voice navigation system to their Niros using optional feature packages.
The 2017 Toyota Prius offers the Entune infotainment system, but critics suggest that Entune is less responsive than they want. What's more, Apple CarPlay and Android Auto aren't options on any Prius model. Still, the Prius is not lacking in other tech, such as standard features like automatic climate control, push-button start, a 6-inch touch screen, a six-speaker audio system, Siri Eyes Free, Bluetooth, and USB port. You can also add a series of optional features, including a 7-inch touch screen, navigation, the Entune App Suite, HD and satellite radio, 10-speaker audio system, wireless mobile device charging, and moonroof.
PERFORMANCE & DRIVING: Kia Niro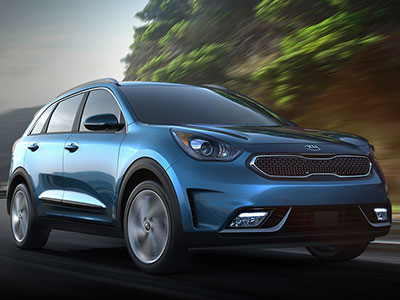 The 2017 Kia Niro proves that driving a hybrid doesn't have to feel like a compromise. In addition to providing a quiet ride, the Kia Niro is fun to drive and feels more like a conventional car than a gas-saver. It shifts smoothly, brakes well, and provides plenty of power.
On the other hand, the 2017 Toyota Prius is annoyingly slow. Almost the worst in its class, the Prius's acceleration won't impress anyone and its handling, braking, and steering are only average at best. All that you feared about driving a hybrid might prove true in the Prius.
Learn More about the Kia Niro

Though the Toyota Prius has marginally better fuel economy and more cargo space, in all the other ways the Kia Niro is the better vehicle. Whether we're talking passenger comfort, infotainment system, or performance, the Niro drives circles around the Prius and is clearly the better hybrid choice.