2017 Kia Niro vs Subaru Crosstrek

Subaru used to be an automaker on the cutting edge of smart design, focusing on practicality and safety to the exclusion of other priorities. Unfortunately, Subaru seems to be taking a step back from that focus, discontinuing the hybrid option on their popular Crosstrek model. Meanwhile, Kia is embracing hybrid technology with the all-new 2017 Kia Niro. Where does that leave these two subcompact crossover SUVs? How do they compare?
2017 Kia Niro vs Subaru Crosstrek
FUEL ECONOMY: Kia Niro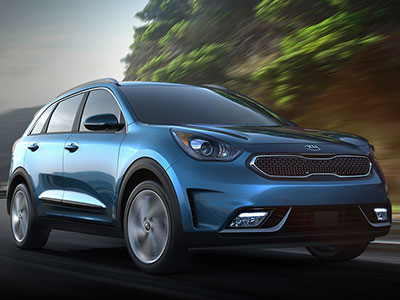 Getting the best possible fuel economy is increasingly important to many buyers, making hybrids even more attractive. Not surprisingly, the 2017 Kia Niro has superb fuel economy–even more than you might expect. The Niro gets 51 city miles and 46 highway miles per gallon, perfect for frequent commuters who benefit from the energy conserved by braking.
By comparison, the 2017 Subaru Crosstrek gets only 26 city and 33 highway miles per gallon. Those numbers are certainly not bad, especially for an SUV, but they can't compete with the Niro's jaw-dropping numbers. Experts estimate that you'll actually save 550 dollars on gas over the course of a year with the Kia Niro.
INTERIOR COMFORT & STYLE: Kia Niro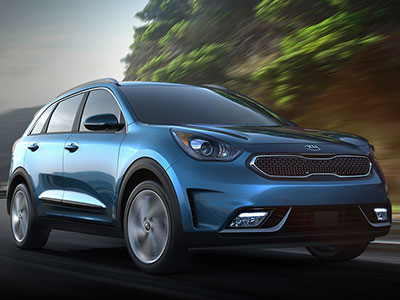 The Niro seats five, two in front and three in the back. Both sets of passengers will enjoy the spacious cabin and upscale look, including a 7-inch touchscreen up front. If you don't have anyone in the backseat, you can fold down the back row for a generous 54 cubic feet of storage. Even with the back row up, you'll still have 19 cubic feet to carry whatever you need.
The Crosstrek has ample room upfront for even tall drivers but back seat passengers will likely feel cramped. The interior look of the Crosstrek is luxurious with only soft plastics and a nicely-arranged dash with 6-inch touchscreen. Unfortunately, once the engine starts accelerating, you'll wish for a quieter cabin. The Crosstrek is also a tale of two cargo spaces–you'll get more space than the Niro with the back seat up, but less when your seats are folded down.
POWERTRAIN & PERFORMANCE: Kia Niro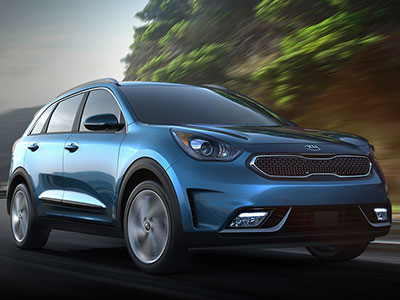 The Kia Niro comes standard with front-wheel drive–and has no other options. If not being able to opt in to an all-wheel drive option is a dealbreaker, you might want to pass on the Niro. But if your concern with a lack of AWD is related to its performance, put your hybrid fears aside. The Kia Niro is a hybrid but definitely doesn't feel like one when you're behind the wheel.
Unlike the Niro, the Crosstrek comes standard with all-wheel drive. But for those who might be expecting a fun, sporty drive, the Crosstrek may disappoint. Though the Crosstrek boasts athletic handling, its acceleration feels anemic and the engine drones loudly as it shifts through gears.
SAFETY: Subaru Crosstrek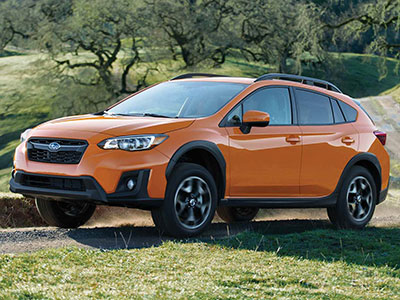 The Kia Niro is new for 2017, so government and insurance safety ratings are still in progress. The Niro doesn't come with active safety features standard, but optional features include blind-spot monitoring, lane change assist, rear cross traffic alert, adaptive cruise control, front and rear park assist, autonomous emergency braking, and forward collision system.
The Subaru Crosstrek is among the safest small SUVs on the road. It earned a Top Safety Pick distinction from IIHS and five stars in government safety tests. Now available for the Crosstrek is Subaru's EyeSight, a powerful package of safety features that act as another pair of eyes to keep you safe on the road. This package features adaptive cruise control, forward collision warnings, automatic emergency braking, lane departure warnings, blind spot monitoring, and rear cross traffic alerts.
Learn More about the Kia Niro

With comfortable seating, superior fuel economy, better performance, and comparable safety ratings, the Kia Niro is an obvious choice. While the Crosstrek's standard all-wheel drive may be a pull for some buyers, the Niro more than makes up for that option in nearly every other way.