2017 Kia Niro vs Nissan Rogue

In today's comparison, we pit the tenacious subcompact SUV, the 2017 Kia Niro, against the the larger Nissan Rogue. In this David and Goliath matchup, who will win?
2017 Kia Niro vs Nissan Rogue
FUEL ECONOMY: Kia Niro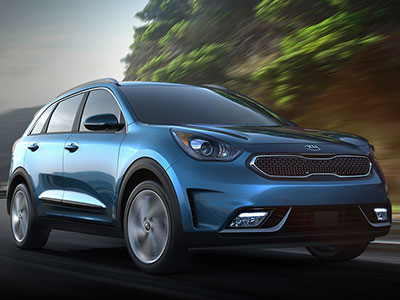 One of the things that matters most to the daily life of buyers is how often they visit the local gas station–and its effect on their bank accounts. The Kia Niro is not only smaller than the Rogue, but it's also a hybrid vehicle. Both of these facts play to the Niro's advantage when it comes to fuel economy. The Kia Niro gets a jaw-dropping 46 highway miles per gallon. At 51 per gallon, the city miles are even better.
The bulkier Nissan Rogue cannot compete with the Niro's mind-blowing MPGs, but that doesn't mean it's a slouch in terms of SUV fuel economy. With numbers like 26 city, 33 highway miles per gallons, the Rogue certainly has nothing to be ashamed of in a class that's not normally known for such good ratings. The Rogue also comes in a hybrid version, but its fuel economy is still noticeably behind the Niro, at 33/35 mpg.
PERFORMANCE: Kia Niro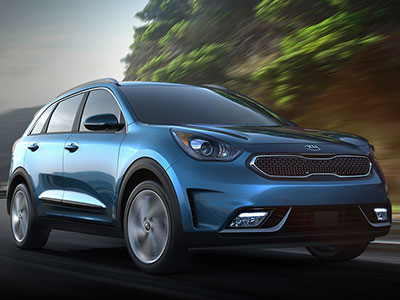 Potential buyers might worry about the performance of a hybrid SUV–will it be able to haul a full cabin of people and stuff AND have enough get-up-and-go to compete on a highway on ramp? Put those fears to rest with the 2017 Kia Niro. Critics say you get the fuel economy of a hybrid with the handling and performance of a conventional car. Another benefit? The Niro offers a quiet ride in an upscale cabin.
The Nissan Rogue has some new technology as well: a continuously variable automatic transmission (CVT), which has some of the characteristics of a manual and some of an automatic. Unfortunately, drivers notice that the CVT makes a loud droning noise when accelerating, and the Rogue is riddled with annoyances that vary from wobbly, vague steering to poor braking.
TECHNOLOGY and FEATURES: Kia Niro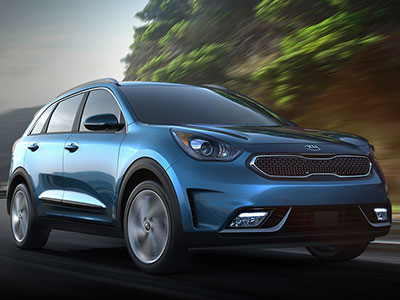 The Kia Niro is honestly a tech lover's dream. Even the base model gives you a host of features to keep you connected. Those features include a 7-inch touchscreen, physical knobs and buttons, a six-speaker sound system, a rearview camera, Bluetooth, a USB port, and the easy-to-use UVO infotainment system with Apple CarPlay, Android Auto, and satellite radio. If you're looking for more, the Niro has optional features that include push-button start, a rear USB port, a surround sound eight-speaker audio system, sunroof, 8-inch touchscreen with real-time traffic conditions, and voice navigation system.
The Nissan Rogue can't really compete with the Niro in terms of its features. The Rogue offers no Apple CarPlay or Android Auto, severely limiting the ability of drivers and passengers to stay connected easily. The NissanConnect infotainment system is also notoriously slow to respond. The base model does offer buyers heated seats, a 7-inch infotainment screen, digital display, heated steering wheel, and physical knobs and buttons. One cool feature on all Rogue models is the rear liftgate that automatically opens when motion-activated. Buyers also have the option of adding adaptive cruise control, 360-degree-view cameras, remote start, and another USB port to their package of features.
SAFETY: Kia Niro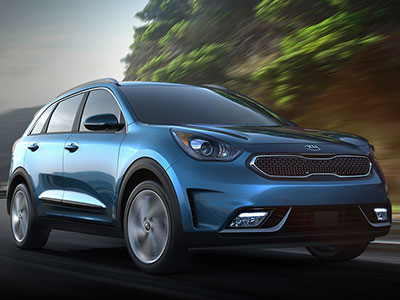 Being a newer car, the Kia Niro does not yet have safety ratings, but its automatic safety features are many and impressive. They include blind-spot monitoring, lane change assist, rear cross traffic alert, adaptive cruise control, front and rear park assist, autonomous emergency braking, and forward collision system.
The 2017 Nissan Rogue received only four out of five stars on its government safety rating. Critics suggest that the Rogue suffers from vague steering and a tendency to body roll. Nissan offers active safety features as well, including a surround-view camera, blind-spot monitors, lane-departure warning system, and forward-collision alert system.
Learn More about the Kia Niro

In fuel economy, performance, tech and safety features, the 2017 Kia Niro has the Nissan Rogue beat. Sometimes power comes in small packages. Buyers will also be pleasantly surprised to know that the Kia Niro is also thousands of dollars cheaper than the Rogue. In this David-and-Goliath story, smaller is better.