2017 Kia Niro vs Honda CR-V

We are currently updating our monthly offers. Please check back shortly for updates.
In the meantime, here are some links that you might find helpful:
The 2017 Kia Niro is a brand new line of subcompact SUV. It's a hybrid, so it runs on gasoline and electric, saving you money at the pump. It's joined this year by the 2017 Honda CR-V, the first year of a new generation of one of the most popular SUVs on the market. What do these two fresh faces offer?
2017 Kia Niro vs Honda CR-V
INTERIOR COMFORT & STYLE: Kia Niro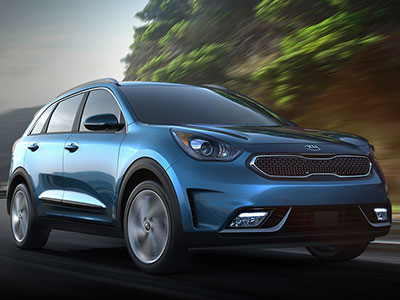 The 2017 Kia Niro seats five and benefits from a roomy interior. Even taller occupants, both front and back have plenty of space. The seating is elevated just enough to make for easy entering and exiting while still offering a commanding view of road. The look is definitely upscale, with high-quality materials and a sleek design. In addition to the cargo space, which grows when the back seats fold down, additional storage space hides beneath the floor.
The Honda CR-V also seats five in a spacious cabin that'll make both front and backseat passengers happy. Like the Niro, the feeling is one of luxury with soft-touch plastics and wood trim in upper models. Its cargo space is top of its class. All told, the Niro and CR-V are pretty well matched in this category.
TECHNOLOGY: Kia Niro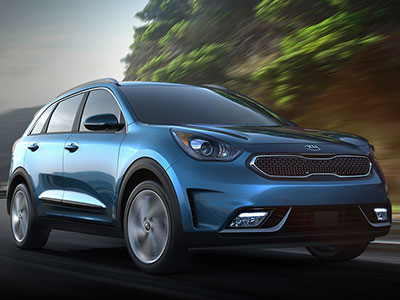 Manufacturers are catching on that some consumers like physical controls on even the techiest cars, and Kia is no exception. The Niro has physical knobs as well as a responsive 7-inch touchscreen. It also comes standard with six-speaker sound system, rearview camera, Bluetooth, USB port, and Kia's praised UVO infotainment system with Apple CarPlay, Android Auto, and satellite radio. Optional features include push-button start, rear USB port, surround sound eight-speaker audio system, sunroof, and 8-inch touchscreen with real-time traffic conditions, and voice navigation system
The Honda CR-V is comparably techy and comes standard with single-zone climate control, 5-inch display screen, four-speaker audio system, Bluetooth, USB port, and rearview camera. Optional features include remote start, proximity key, push-button start, power-adjustable driver's seat, a power moonroof, dual-zone automatic climate control, a nine-speaker audio system, satellite radio, HD Radio, a 7-inch touch-screen infotainment system, Apple CarPlay, Android Auto, and navigation. Handily, Honda brought back the traditional knob for volume and buttons for climate settings.
FUEL ECONOMY: Kia Niro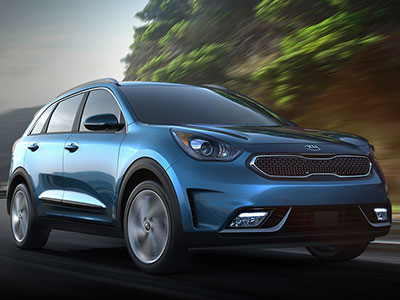 The 2017 Kia Niro has the Honda CR-V beat by light years in fuel economy. This hybrid vehicle averages an astounding 51/46 miles per gallon using gasoline and electric. Even better, when using electric only, the ride is extra quiet, even when accelerating. Speaking of acceleration, many say that, in terms of power, it's hard to tell they're driving a hybrid. It handles like a conventional car.
The Honda CR-V cannot compete with the Niro's hybrid technology. It logs a more middle-of-the-road fuel 26/32 miles per gallon, still good for its class. But that's nothing compared to the Niro.
SAFETY: Honda CR-V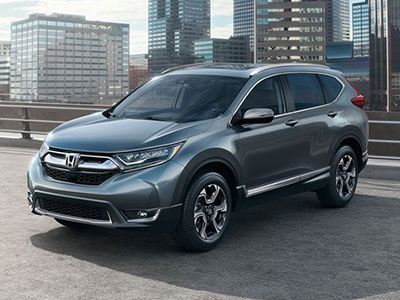 Being new to the scene, the Kia Niro still has not received official crash test ratings. But, being newly redesigned, the forecast expects sunny safety ratings. The Niro has lots of safety features, such as blind-spot monitoring, lane change assist, rear cross traffic alert, adaptive cruise control, front and rear park assist, autonomous emergency braking, and forward collision system.
The Honda CR-V earned an overall five-star safety rating and has good safety tech as well, like forward collision warning, automatic emergency braking, lane departure warning, lane keep assist, adaptive cruise control, blind spot monitoring, rear cross traffic alert, and road departure mitigation. The upper trims have good new features, like its Honda Sensing system that alerts you to obstacles ahead. In terms of safety, the Niro and CR-V are neck and neck.
Learn More about the Kia Niro

The competition is fierce between these two newcomers. They are evenly matched in technology, comfort, and cabin and cargo space. But because the Niro is a hybrid vehicle, it leaves the CR-V in the dust when it comes to fuel efficiency. On top of that, the Niro starts at a lower price for comparable features. Test drive a new Kia Niro today and see how far hybrid technology has come. We think you'll be pleasantly surprised.