2017 Kia Forte vs Nissan Sentra

We are currently updating our monthly offers. Please check back shortly for updates.
In the meantime, here are some links that you might find helpful:
The 2017 Kia Forte and Nissan Sentra straddle the line between compact and mid-size, giving buyers more than they might expect. Incredibly spacious but also lightweight and returning good fuel economy, they fit the bill for buyers wanting something small but not too small. But which of the two is the better vehicle?
2017 Kia Forte vs Nissan Sentra
Interior Comfort and Style: Kia Forte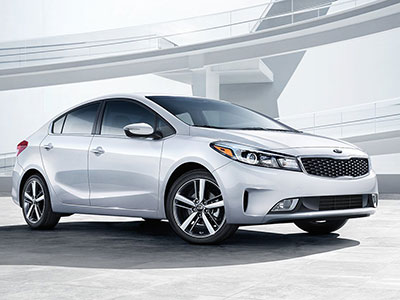 The 2017 Kia Forte has a roomy cabin, with ample room both in front and in back for its five passengers. The interior styling is upscale and attractive, especially for its low sticker price, with nice touches like the passenger-side dash ripples. The controls are logically arranged and the trunk is one of the largest in its class, 14.9 cubic feet in the sedan and 23.2 in the hatchback version.
Also seating five, the 2017 Nissan Sentra is even more spacious but suffers from an aging, outdated interior. Passengers will find room to stretch no matter where they sit in the car and the trunk is a tad bigger than that of the Forte. But the quality materials cannot hide that the Sentra hasn't had an major interior redesign in quite some time.
Technology: Kia Forte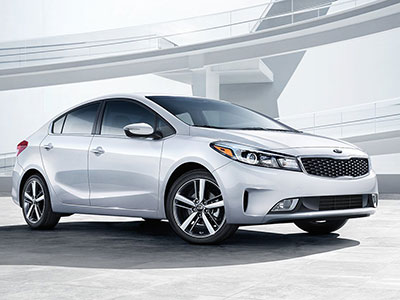 Boasting all of the latest tech and connectivity, the Kia Forte is a buffet of features. The standard model comes with keyless entry, Bluetooth, and USB smartphone connectivity. Going up the trims, you get a lot more, like Kia's simple-to-use UVO infotainment system with a 7-inch touch screen, Apple CarPlay, Android Auto, a six-speaker stereo, satellite radio, and another USB port.
The Nissan Sentra's base features are almost identical but going up the trims doesn't pay off nearly as well. There is no Apple CarPlay or Android Auto option and the display only expands to 5.8 inches. Its upper trim features include navigation, smartphone app integration, voice recognition, and eight-speaker premium audio system.
Fuel Economy: Kia Forte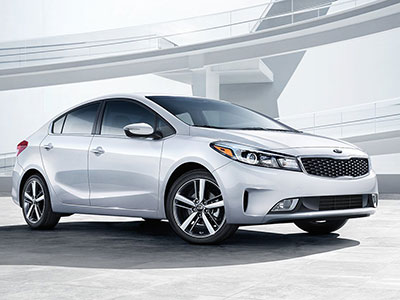 With average fuel economy for its class, the 2017 Kia Forte gets 29 city miles and 38 highway miles per gallon with its base automatic transmission. The standard engine isn't very sporty but there are two other engine options to choose from.
The 2017 Nissan Sentra gets almost exactly the same gas mileage: 29 miles in the city and 37 on the highway. In terms of drivability, it suffers from poor acceleration and even the engine in its upper trims cannot be described as sporty.
Safety: Kia Forte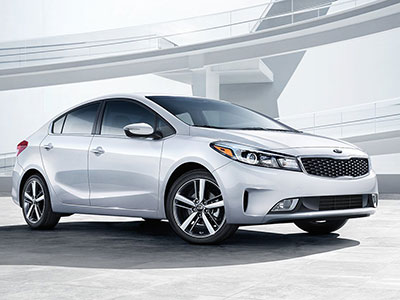 The Kia Forte received top marks in its government safety tests, netting a perfect five stars overall. It doesn't have any standard safety features, but optional ones include rearview camera, automatic emergency braking, forward collision alert, blind spot detection, fog lamps, rear cross traffic alert, lane departure warning, and lane keep assist. That's plenty of tech to keep you and your passengers safe.
Also abundantly safe and with similar safety options, the Nissan Sentra is no slouch when it comes to safety. It also received five stars on its government safety tests and IIHS declared it a Top Safety Pick. Like the Forte, it has no standard safety features, but options include rearview camera, blind spot monitoring, rear cross traffic alert, forward collision warning with automatic braking, and adaptive cruise control.
Learn More about the Kia Forte

It's not surprising that the Kia Forte and the Nissan Sentra are evenly matched in terms of cabin and cargo space. Their fuel economy and safety features are also similar. But the Forte is the clear winner in terms of performance, interior design, and technology. Test drive the Kia Forte and see how good it feels to stretch in a compact car.