2017 Kia Forte vs Hyundai Elantra

We are currently updating our monthly offers. Please check back shortly for updates.
In the meantime, here are some links that you might find helpful:
The good news about a crowded compact car market is buyers can afford to be picky, but the options can be overwhelming. If you're considering something from a Korean manufacturer, the 2017 Kia Forte and Hyundai Elantra are both vying for the lead in this competitive market. Before you hit the dealership, check out our comparison guide. We'll help you decide which compact car is right for you.
2017 Kia Forte vs Hyundai Elantra
INTERIOR COMFORT & STYLE: Kia Forte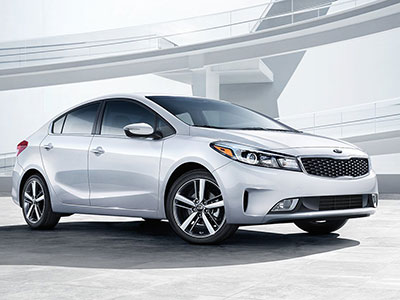 The 2017 Kia Forte and Hyundai Elantra both seat five. The Kia Forte model has 14.9 cubic feet in the trunk, while the hatchback has quite a bit more with 23.2 cubic feet. The Forte is very roomy for a compact car, with enough space in front and back for even tall passengers.
The Hyundai Elantra is very similar to the Forte in cabin size. In fact, in terms of head and leg room, they're so evenly matched in this category that the differences can be measured in tenths of an inch. You'll find slightly less room in the trunk, maybe enough to squeeze in another bag of groceries. But both the Forte and the Elantra are spacious for their class in both passenger and cargo space.
TECHNOLOGY: Hyundai Elantra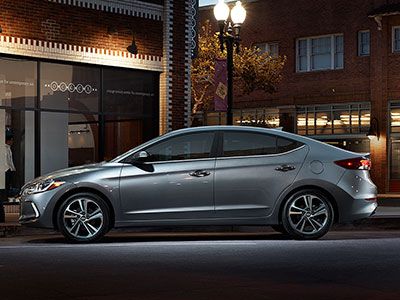 The 2017 Kia Forte is a tech wizard. Bluetooth, a four-speaker stereo, satellite radio, and USB ports come standard. You will almost definitely want to spring for the UVO infotainment system with Apple CarPlay and Android Auto, making your car a hub of communication and convenience. Other optional features include six-speaker stereo, push-button start, cruise control, rearview camera, dual-zone automatic climate control, HD Radio, sunroof, automatic emergency braking, rear cross traffic alert, blind spot detection, and forward collision alert.
The Hyundai Elantra again measures up in this category. Though it doesn't have the acclaimed UVO system, it has comparable tech features coming standard, plus a bevy of optional features, such as power sunroof, dual-zone automatic climate control, push-button start, Bluetooth, HD Radio, an eight-speaker audio system, Android Auto and Apple CarPlay, 7- or 8-inch touch screen with navigation, blind spot monitoring, rear cross traffic alert, lane change assist, rearview camera, forward collision warning, automatic emergency braking, pedestrian detection, lane departure warning, lane keep assist, and adaptive cruise control. One cool option is Hyundai's Clari-Fi music restoration technology, which makes digital music sound more like vinyl.
FUEL ECONOMY: Kia Forte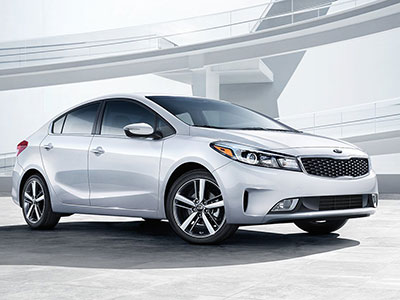 The Kia Forte just edges out the Hyundai Elantra in terms of fuel economy. It gets between 23 and 29 miles per gallon in the city and between 29 and 38 mpg on the highway.
By comparison, the Elantra gets 22-32 city and 30-40 highway. The comparison might be close but at the end of the year, you'll see a difference in your gasoline expenses. On top of that, the Forte has a lower manufacturer's price, saving you even more.
SAFETY: Kia Forte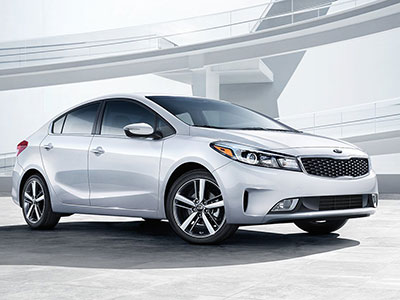 If you value safety, the Kia Forte is a clear win. It earned five stars in overall safety rating. Coupled with its abundant safety features, such as rearview video, forward collision warning, and lane departure warning systems, the Forte is among the safest compact cars on the road.
The Hyundai Elantra earned an overall safety rating of only four stars, consistently producing less desirable results. In this category, the Kia Forte is a safer bet.
Learn More about the Kia Forte

This is certainly a photo finish in a race between two great compact cars. But with its slightly better fuel economy and much better safety rating, the Kia Forte wins by a nose. That's good news for you and for your wallet, since the suggested price for a Kia Forte is much lower than the Hyundai Elantra's. Stop by a dealership today and test drive the Kia Forte.